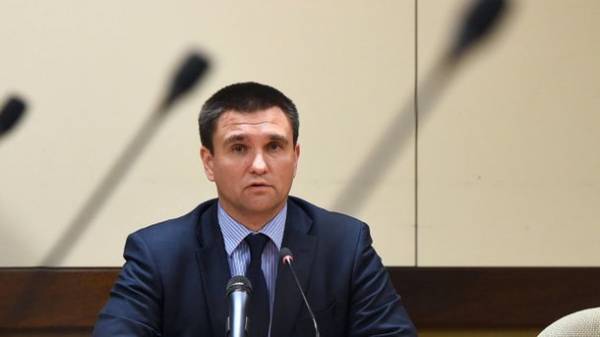 During tomorrow's meeting of foreign Ministers of "Norman Quartet" on the sidelines of the Munich security conference, Ukraine will put pressure on two key dimensions: security and access of the OSCE to the border, and the humanitarian dimension – access to the red cross and the release of the hostages. About it to journalists before an input in Hotel Bayerischer Hof, where the Munich conference, said the head of the Ukrainian foreign Ministry Pavlo Klimkin.
"I'm going to push two key dimensions. Is the security that the OSCE had the opportunity to better control the attacks, and most importantly to push, that they were not. So we really had control on the territory of Donbass, to enable the mission to work around the clock and, in the end, she went to the border and do what needs to do is effective monitoring of the border. And the second question, which will especially push is of course a humanitarian issue, ranging from such small but important things like access. In particular, access of the red cross, our access to our hostages and of course the main issue is their release. Here's my two priorities," – said Pavlo Klimkin.
According to him, the foreign Minister of Germany Sigmar Gabriel this will be the first meeting. "It will be an opportunity to look not only at the content, because he is an experienced man, but also the atmosphere of these meetings. So honestly, any breakthroughs from the meeting tomorrow I do not expect. We have offers in bezopasnosti. Again, will consistently put pressure on the humanitarian dimension and definitely will certainly raise a question about the Road map. Because we have a clear logic, we have logic sequence and logic of safeguards. The last time Lavrov refused to discuss it. We, unfortunately, will not be very much time tomorrow, but, nevertheless, I hope that this meeting will be able to have productive," concluded Klimkin.
We will remind, originally the meeting of foreign Ministers "channel four", were to be held on the sidelines of the summit of foreign Ministers of G20 countries in Bonn. "Norman four" intends to introduce in the recently newly appointed foreign Minister of Germany Sigmar Gabriel to discuss a "Road map" – a step by step plan of implementation of the Minsk agreements – it was supposed to turn out and present at the end of November last year.
Comments
comments