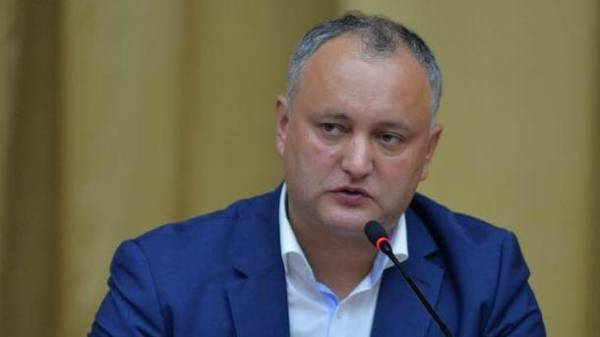 Moldova and the Eurasian economic Commission (EEC) will sign in April a framework agreement on cooperation in Chisinau hope that by the summer of Moldova will get the status of observer in the Eurasian economic Union. This was stated by the head of the state Igor Dodon, reports "RIA Novosti".
"I think April – signing of the agreement, in may and June, I hope that Moldova will become an observer in this important and ambitious organization," he added.
We will remind, during visit to Moscow, Igor Dodon said that Moldova's signing of the Association Agreement with the EU didn't give, and it is possible that the agreement will be cancelled taking into account the upcoming parliamentary elections in the Republic.
As is known, President of Belarus Alexander Lukashenko instructed to withdraw the main Belarusian specialists of the customs bodies of the EurAsEC.
"I have not signed the Customs code, because a lot of what was supposed to be not working, which is the fence to fence, if it is not working, he said. – Moreover, I was instructed to withdraw our major specialists from the customs authorities (EurAsEC)". "Why are they sitting there? (…) Why this organization," he said.
"If we want to see in the integration structures, we need to behave decently in relation to each other, we need to support each other and not create additional obstacles. For 2015 we are in the EEC fell in trade, in my opinion, 40%, and last year, another 18% added. 60% in the EurAsEC fall – is that normal?" – said Lukashenko.
Eurasian economic Union – an international integration economic Union created on the basis of the Customs Union and the common economic space starting from 1 January 2015. Now the members of EurAsEC are Russia, Armenia, Belarus, Kazakhstan and Kyrgyzstan.
Comments
comments