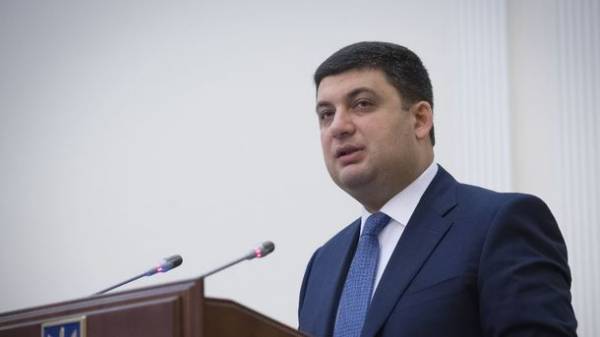 Blockade of coal supplies from Donbass is a crime, and otherwise undermining the country's economy can not be called. This was stated by Prime Minister of Ukraine Vladimir Groisman, an extraordinary session of the Cabinet.
"I once again urge those who block, unblock, all that concerns coal and the economy. Everything else – please, block, control. If you want to help in this fight, you can count on me. But to mock the Ukrainian citizens, no one is allowed", – he said.
The Prime Minister explained that, since the blocking is happening on the territory, which today is a military operation, this is beyond the reach and competence of the government is the Council of national security and defense and other law enforcement agencies.
"So I turned to NSDC with a request to consider thoroughly all aspects and the impact of this blocking on the lives of Ukrainian citizens and accordingly to take all necessary measures all the necessary services to this issue was removed from the agenda. When our economic part of the law enforcement system will react together, I am sure we will be able to achieve success. But today we need to answer how should be built to control the line of differentiation, that we have not had any problems with the illegal movement of goods," he said.
The head of government noted that blockade to achieve something impossible. You can hit the Ukrainian economy, can strike at Ukrainian citizens who will suffer without heat and light, but not by smuggling.
"Because the flows are rerouted to other vehicles. It's non-systemic solutions – and I am convinced that this decision is against the Ukrainian state", – he stressed.
Recall that the blockade continues for more than two weeks. Upon blocking of railway lines in the Luhansk oblast Prosecutor's office opened criminal proceedings, and members of Parliament need to immediately convene the national security Council.
In turn the Prime Minister-the Minister Vladimir Groysman declared that will not allow the embargo to organize the fight against the Ukrainian people. The Prime Minister reminded that two weeks ago people risked their lives to restore the operation of enterprises in the town.
The website "Today" to find out the threat is a blockade of Donbass. According to experts, the consequences could be disastrous.
Comments
comments