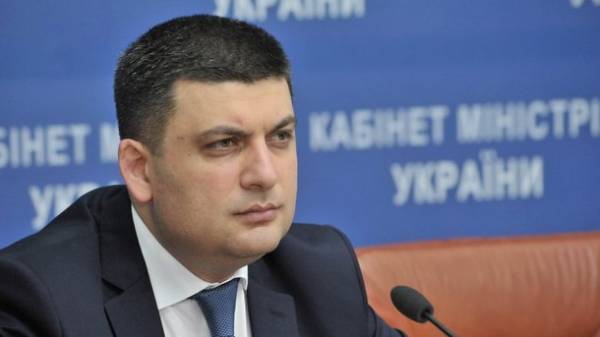 The Cabinet of Ministers of Ukraine today will make a decision on the adoption of emergency measures in the energy sector in connection with the blockade of Donbass. This was stated by Prime Minister Vladimir Groisman, opening an extraordinary government meeting.
"I'm going to talk about the issue, entirely man-made. Due to the overlap in the zone of the antiterrorist operation of Railways, today has completely blocked the delivery of necessary Ukrainian coal in CHP and thermal power plants that produce one third of the country's electricity and heat in large and small cities of Ukraine", – he said.
According to him, this issue touches every Ukrainian citizen. Such overlap can lead to power outages and blackouts heat in the cities and homes of the Ukrainians.
"I want to emphasize that such actions are absolutely unacceptable. As quickly as possible the necessary supply of coal needs to be unlocked. The task of the government in the first place – along with local authorities to ensure that in this difficult period, any negative impact on people's lives was minimized. We have gathered today, the government in order to make a decision on the adoption of emergency measures in the energy system of our country. This shortage of coal is entirely man-made. The list of names of people who did, knows the whole country", – said Groisman.
Recall that the blockade continues for more than two weeks. Upon blocking of railway lines in the Luhansk oblast Prosecutor's office opened criminal proceedings, and members of Parliament need to immediately convene the national security Council.
In turn the Prime Minister-the Minister Vladimir Groysman declared that will not allow the embargo to organize the fight against the Ukrainian people. The Prime Minister reminded that two weeks ago people risked their lives to restore the operation of enterprises in the town.
The website "Today" to find out the threat is a blockade of Donbass. According to experts, the consequences could be disastrous.
Comments
comments