Died soloist of group "freestyle" Nina Kirso
Nina Kirso passed away at the age of 56 years
Marina Popovich
Today, 22:44
Soloist of the popular group of the 90s "freestyle" Nina Kirso died at the age of 56 years. On the death of the singer said her sister Alla a personal page on Facebook.
"An hour ago became my beloved sisters, I Ask prayers for neopredelennoi R. B. Nina," wrote Alla Circo.
Your condolences have been expressed by fellow performers Nina Kirso by posting a message on the band's official website. "It is with great sorrow we announce that on 30 April 2020 in Poltava after a long illness died Nina Vladislavovna of Circo. We were friends and worked together since 1983, since the Amateur. Nina Kirso was directly involved in the creation of the group "freestyle", her voice sounded in our best songs. It is impossible to overestimate its participation in the life of the team as a whole and of each individual "freestyler" in particular", – stated in the message.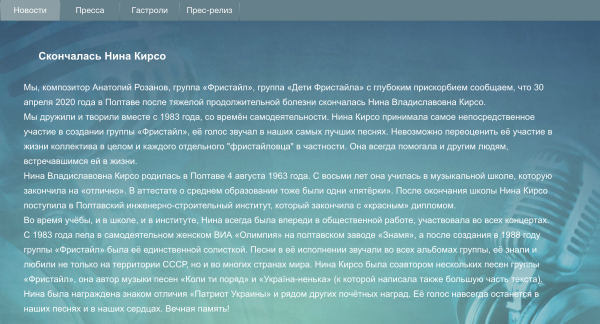 We will remind that in June of 2018 Nina Kirso in a coma after a stroke. Relatives found her unconscious in the apartment in Poltava. Her husband and producer of "freestyle" Anatoly Rozanov with his son Maksim were at this time on the road.
In early may, 2019 relatives reported that the woman came out of the coma. However, the actress did not improve. From Nina Kirso appeared concentration despite the fact that her eyes were open. It was later revealed that the woman has long suffered from hypertension, but ignored the symptoms.
Comments
comments