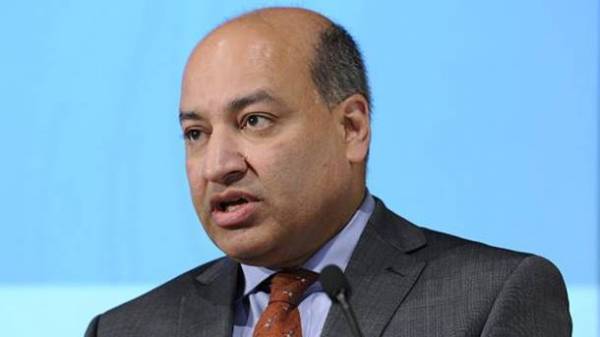 The head of the European Bank for reconstruction and development Amount Chakrabarti called on to improve the business climate in Ukraine and to abandon the practice of proreform. He said this during a speech at the annual conference of Yalta European strategy (YES) in Kiev.
"We promised recently in London continue to support Ukraine. The EBRD has always been at the head of this support. We gave Ukraine more support than any other international organization. … At the same time, we offered their advice, when Ukraine was flawed reforms". We expect that in the coming months Ukraine will take the necessary steps," said Chakrabarti.
He recalled that in 2014, the EBRD has ceased to invest in state projects in Ukraine, but now the situation has changed. "Take at least procurement. Any comparison is not with what it was," he said.
SEE ALSO
Ukraine is interested in intensifying cooperation with the EBRD.
"Kiev should stop the practice of proreform. We call for greater determination. EBRD stands for an open economy. We here are the biggest investors – about 20 billion euros (invested in Ukraine – ed.), in recent years, including 3 billion euros . 2.5 billion euros are also provided by the Chernobyl Fund. The signs of our presence everywhere in the Ukraine," – said EBRD President and reminded that they are investing in the Ukrainian roads, and in technical projects, and energy.
He recalled that in Ukraine for many investors, but this is still not enough.
"But the reforms are not ends in themselves – they are means. For the stable development of Ukraine it is necessary to remove the last barriers to investment. You need to improve the business climate. Ukraine can not afford to delay reform, they need to occur immediately. According to the European chamber of Commerce in Ukraine now more investors than ever, but this is still not enough", – said Chakrabarti.
SEE ALSO
Poroshenko appealed to the President of the EBRD
At the same time he reminded that in order to attract investment in Ukraine needs to overcome corruption and advance the rule of law.
In addition, the head of the EBRD is confident that land reform "can release huge amounts for business development".
Yalta European strategy (Yalta European Strategy, abbreviated as YES forum) is an annual conference organized by the Victor Pinchuk Foundation. The conference gathers the most influential politicians and businessmen of Ukraine and the world, it has been held annually since 2004. The aim of the conference is the development of Ukraine and its European future, as well as establishing international ties.
The founder of the Yalta European strategy, Victor Pinchuk, a prominent Ukrainian businessman and philanthropist.
Comments
comments