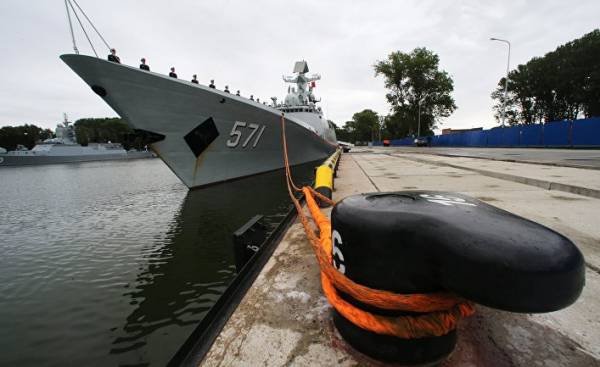 China has taken Russia's policy in the Arab region and immediately supports the position of Russia in Syria by using the veto in the UN security Council. Hoping to strengthen its position in the Pacific and South-East Asia, Beijing drew attention to the pressure of the United States in the Arab region and Western Asia, as well as in the Crimea and on the territory of the project "One belt, one road".
The regions of the Baltic sea divided between China and Russia. So Russia opened the way to China to strengthen its position in the North of the European continent. Active biasing of confrontation of the South China sea into the Baltic creating new enemies for the United States and sent a strong message to the American government, which opposes the rise of China and actively discussing their development in the Asia-Pacific region.
Mainly, China is interested in the contract of the West, Asia and Europe about expansion of the fight against the United States. In addition, this political step to ensure greater participation in the regional policy for Europe and Western Asia through the "Russian gate". This is a logical response to the expansion of the United States in Southeast Asia that is not satisfied with China due to the strengthening of their naval forces or ignoring troubling actions by North Korea.
China derives much benefit from the escalation of tensions in relations between Russia and the United States and from the decline in trust between America and its allies, chief among them Japan and the countries of the Persian Gulf. This situation also allows to expand the area of influence through the strengthening of America and Russia in Central Asia through their participation in the ambitious project "One belt, one road".
It is worth noting that China has absolutely no interest in participating in the Arab conflicts, and intends to expand access to the African continent and take advantage of competition of the States participating in the new Chinese project. China strengthens its military presence in Djibouti, gateway to the Red sea and East Africa. Thus, Beijing is creating a high level of competition among the States of the region in an effort to gain control of the sea routes to participate in the new Chinese project.
China is everywhere, and this speaks to the disorientation of the US and the aggravation of Russian-American confrontation arising in connection with the expansion of America's involvement in destructive conflicts. This enhances the ability to strengthen China.
Comments
comments