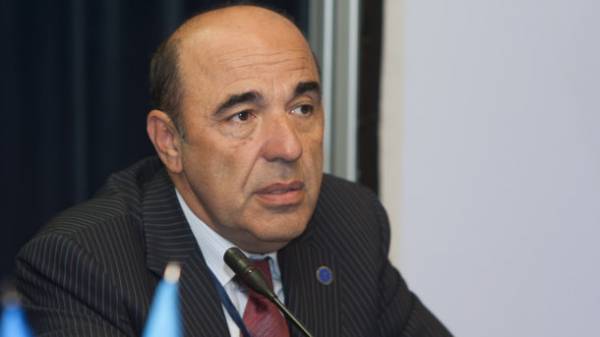 On Tuesday, July 18, people's Deputy of Ukraine, Chairman of the parliamentary Subcommittee on human rights and the leader of the political party "For life" Vadim Rabinovich met with Ukrainian political prisoner Mykola Karpyuk, who for the third year serving time in a Russian prison. The politician said during an online broadcast on his page in Facebook.
"That's true! I used to be afraid to write about it. This is the city of Vladimir, the famous Vladimir Central. Only thing I was able to meet with Mykola Karpyuk, who is already three years here. All I can tell you more in Kiev. But I am very pleased that this brave man saves the will, the toughness, and I think that after our meeting he would be further strengthened in spirit. Thanks to everyone who helped organize this meeting!" – said Vadim Rabinovich.
The opposition politician stressed that the need to exert more efforts to release Karpyuk. "Ukraine! From the distant city of Vladimir – Vladimir Central – say greetings to everybody from a political prisoner Mykola Karpyuk, who is already three years here. And, unfortunately, we never got around to it. I want to tell you: he is alive and healthy and smiling," – said the MP.
Vadim Rabinovich has promised to tell more details about the meeting with Ukrainian political prisoners, when will return to Kiev.
According to Vadim Rabinovich, he deals with the issue of the release of Mykola Karpyuk from a Russian prison for two years. He previously announced that he will make every effort for liberation of the Ukrainian political prisoner.
We recall that Mykola Karpyuk, one of the leaders and founders of the "Right sector". In March 2014 he was detained at the entrance to Russia, where to this day is serving a sentence on trumped-up charges of crimes against Federal troops of the Russian Federation in 1994-1996, allegedly committed during the first Chechen war.
In may 2016 Karpyuk was sentenced to 22,5 years in prison. The Russian human rights organization "memorial" recognized Mykola Karpiuk political prisoners.
Comments
comments