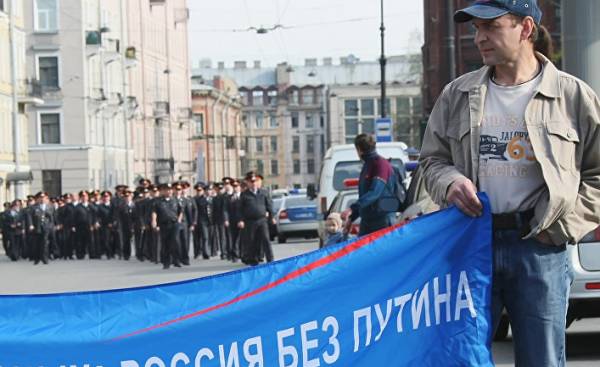 This year, Director Sergei Loznitsa is a native of Belarus, who lives in Germany, presented in Cannes for his film "the Meek." It's loosely based on Dostoyevsky's work and tells the story of a woman who tries unsuccessfully to meet with her husband, who is in jail. The festival in Karlovy vary Loznica brought another of his tape — documentary film "Austerlitz", in which the Director, seemingly, idly watching the tourists in the former concentration camp of Sachsenhausen.
— Novinky.cz: Your film "Meek" in early August, will be shown in Your presence at the Summer film school in uherské hradiště. What he says about the relationship of the Russian state and its citizens?

Sergei Loznitsa: in Fact, nothing new! First of all, because in this sense on the territory of the former Russian Empire did not particularly changed since the time of Ivan the terrible. No matter, as we now call it the state is totalitarian or democratic. The essence remains unchanged. But I have not spoken about the relations between the state and citizens, but rather about the state and its residents. To be a citizen, you need something to do. They do not automatically become: to be a citizen is a privilege. Today in Russia very few people.
What is the relationship today between government and its citizens.
— We are talking about a particular form of slavery. Officially in Russia it was abolished in 1861, but if the government puts her mind to something, it continues, as before, no one will even try to stop. Russia never had a civil society, which should protect the people from interference government. Perhaps it appeared briefly in the early 20th century, but we all know how that turned out. All this, of course, due to the constant loss of intellectual elites, who at best are fleeing Russia before you lose your life. Now I do not remember who the French said that if he left the country three hundred intellectuals, the French would have turned into a nation of idiots. The Russians themselves broke a lot of their intellectuals. So, today Putin has no real opposition. By the way, he is now aiming at the Russian Academy of Sciences.
It interested me and "Meek": what ideals we, the East Europeans, carry in the soul, if again and again they push us to this suicide? Dostoyevsky described them in his books, in my opinion, brilliant, and he was a prophet.
And even the collapse of the Soviet Union gave a chance to get out?
— At that time indeed there was a huge movement of people who no longer wanted to live in a state like the Soviet Union. But this movement has arisen only because the government allowed it. And, most importantly, the elite failed to offer a new vision of a democratic state, a viable project. Of this we have no alternative so far. Sometimes I meet with the Russian immigrants, who in the early 90's was witness to those events, and many of them dream to return home and fantasize that stand at the head of the opposition against Putin. But being intellectuals, they only offer different utopia without any chance of implementation.
— So You do not see Russia a bright future?
For brighter future we have to fight, and in Russia almost no one is fighting. This requires the idea of social imagination and a model from the past, but now it in Russia. In contrast to the destructive imagination, which in Russia have all in all strata of society — from the President to the last worker. It is no coincidence that today no one remembers the February 1917 revolution, which really changed the country. As the release of a glorified other, the October, after which all new, recently emerged, was destroyed by a small gang. When you read a memoir about that time, I understand that otherwise the matter could not end. After all, Russia has always been so: the winner is the one who is arrogant all eager for power.
In the current crisis in the West think that we are losing the ideas that define us.
— When you lead a prosperous life, forget all around good — not taken for granted, that for his freedom and for all the things for which your ancestors gave their lives, you have to fight every day. So sometimes you have to be a crisis to remind us about it. Today we see in the United States is growing resistance to attempts to limit freedom. Students, journalists and even politicians are against trump. They are struggling and know that you must fight. In Russia something like this was unimaginable.
The problem with Western societies is that they are built on scientific basis, that is pragmatism, which is often difficult to reconcile with morality. Therefore, modernity reminds us 30 years. Chamberlain and Daladier decided to donate the territory of the Sudetenland, where we are now by coincidence are, and give them to Hitler for pragmatic reasons. They believed that this will stop his expansionary policies, or that they even manage to turn it against the Soviet Union. Subsequently, it became clear that they should prefer morality. That's what I advise Western statesmen, for example, in regard to the Ukrainian war because European politicians refuse even to admit its existence.
In "Meek" clearly traced the line of prison stories, and they are inextricably linked with Russian culture…
It's not just about the stories, jokes or sentimental songs in the modern Russian language deeply embedded prison slang, originated in the 50-ies. In the West do not understand, but here is the logic: Stalin's in the Soviet Union there was a family where nobody was sitting. And if these people were lucky and they came back from prison, they carried with them and prison language and behavior in prison. Over time, both spread throughout society.
— Do you think that this has some influence on the Russian mentality?
— Of course, but the influence is in both directions. If it were not for the Russian mentality, that prison slang is not so well entrenched. Any boss in Russian history wanted to acquire language. Especially in the 50-ies of the language is dramatically simplified, like life, which undoubtedly influenced Russian thinking. Putin and his entourage are also trying to consolidate the language of certain slogans and phrases. The language continues to be simplified — quite a bit to listen to the Russian President. I don't even want to imagine what would Nabokov or Akhmatova.
I remember that when I lived in Russia, every day watching him, to me that is not good. I started to use some words just because they were common in my environment. My language has changed, and it changed me.
— Speech trump also did not differ special refinement.
Yeah, but trump is in the United States is not the only center of power. And with the Americans who are in acute need of personal property, dignity and keep guns in your house, will always be very difficult to negotiate. The American civil war was a war against slavery. The Russian led the civil war to become slaves. And that is the difference.
— At the festival in Karlovy vary was shown another film — a documentary-watching "Austerlitz", loosely based on the book by V. G. Sebald. What interested You about it?
In Sebald I like the fact that he makes us think. He looks around and touches upon different topics, he is open to everything that is happening now. In his books reality is intertwined with reflections. I saw the same in the world of film and art in General. For Sebald characteristic and a certain ambivalence. In the end, he comes to clear conclusions, but his arguments "for" and "against" merges. I want it so were my films.
— This ambivalence is important for You and "Mild", isn't it?
Yes. At the end of "the Meek" becomes a horror film, which is, however, very probably takes place only in the imagination of the heroine. But can be and Vice versa, and everything we've seen so far, it was only in her imagination. In an effort to get to her husband in jail, she meets a lot of dangerous people, which, however, it is very helpful and tell her, "please Leave, we are dangerous, and You can get something to happen." This ambivalence there all the time present. Of course, with a certain degree of perversity. Because the work of Dostoevsky — even in the film from him almost nothing left is a perverse grotesque.
— In the movie "Austerlitz" on long static shots, as we observe visitors to the former concentration camp Sachsenhausen…
— We shot in seven places. But the footage from Sachsenhausen was best seen what we wanted to show — namely, the attitude of the visitors who come there to birth and death. Because — what really there to hide — tourists today come in a concentration camp primarily because of his fascination with death.
In addition, Sachsenhausen is not far from Berlin, so the travel Agency especially actively started to work on him, and there comes especially a lot of people. In Bergen-Belsen following the crowd will not see again, and Sachsenhausen became a factory, but not death, like the Nazis, and money. And therein lies the irony. That is where our memory comes attractively packaged product. I'm not saying that is good or bad. It's just a fact. I like kinanthropology, this fact interested.
"Austerlitz" is set in a camp where there was no systematic murder of Jews. Would have changed the film if the shooting took place at Auschwitz? There are in fact today is also full of tourists.
I don't know. But it would be interesting to try to shoot there. The behavior of most people, it would probably be the same, however, goes to Auschwitz more Jews, for whom all this is, of course, has a deeper meaning. As for the tourists, then in Sachsenhausen it varied. As I said one viewer in Karlovy vary, there is one of the few places where people of European civilization, form a crowd. Although in other circumstances it does not work, because we share national and political differences.
— What Your film can provoke the audience?
I would be interested if someone decided to deeply explore the obsession with people's "selfies" when they are massively photographed on the background of the inscription Arbeit macht frei. Why do they want to be close to this cynical and hypocritical phrase? This inscription was also a product of, and whoever invented it (I don't know, Goebbels or anyone else), in fact, won. He caught our attention. Today, people brag about the fact that came to look at the large crematorium, and thrilled about it to your friends, family, neighbors. And it is also a perversion.
Comments
comments