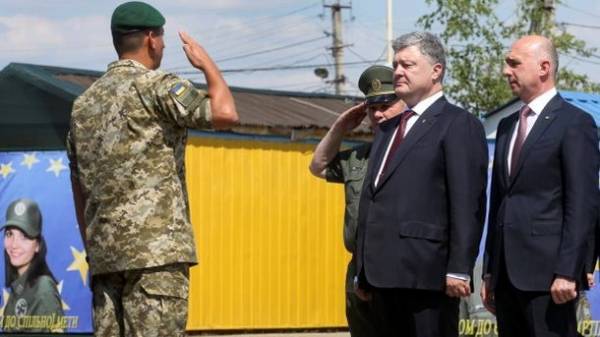 The President of Ukraine Petro Poroshenko and Prime Minister of Moldova Pavel Filip took part in the opening of the checkpoint customs and border control on the Transdniestrian segment of Ukrainian-Moldavian border "Kuchurgan-Pervomaysk".
"The peoples of Ukraine and Moldova have a very long history of friendship, partnership and good neighbourliness. And Kuchurhan is a promising character, as it was founded in 1808 by German immigrants and has been very symbolic for the current period in the history of Ukraine and Moldova the name of Strasbourg, founded as the Germans were from Strasbourg", – said Poroshenko.
See also: Ukraine and Moldova signed a border Treaty
According to him, the new checkpoint will be representatives of Evrosouza.
"Today is a very important and fundamental, as in 2009, the year we started joint control together with the EU mission EUBAM. And now with us are representatives of this mission – and they will be continuously engaged in monitoring that we firmly ensure security, transparency, resilient to corruption and the convenience for crossing the border. I'm sure this is a very powerful motivation to make this event happened today. From now on, the Ukrainian and Moldovan border, Ukrainian and Moldovan customs officers together with representatives of the EUBAM will work to ensure the safety and comfort of our citizens. Moreover, I have today instructed the Ministry of foreign Affairs and the State fiscal service, to extend the EUBAM mission to other border crossing points to ensure transparency and effective fight against smuggling and corruption," the President added.
We will remind, today during the visit to Odesa region Petro Poroshenko visited the flagship of the Ukrainian Navy frigate "Hetman Sahaidachny", which met with the participants of the Ukrainian-American exercises "sea breeze-2017".
Comments
comments