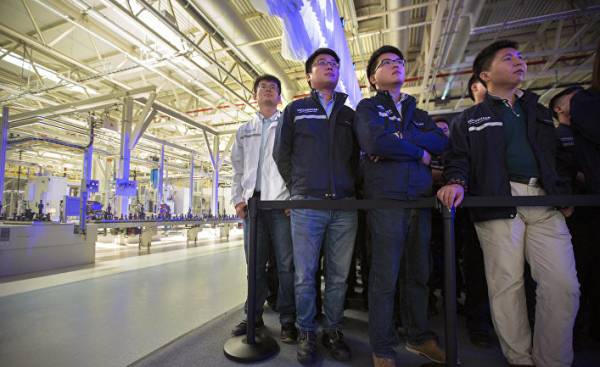 He radiates contentment. The President of the Union of Bavarian economy Alfred Gaffal (Alfred Gaffal) in an interview proudly points out that with the economy in Bavaria fared particularly well. And yet he has suggestions on what to do to make the situation even better.
Die Welt: You Recently sharply criticized the Federal government for its policies, in Your words, directed against the economy. This week the Chancellor will be visiting You, repeat You with his or her criticism?
Alfred Gaffal: I harshly criticized, and said that the red-and-black Federal government in recent years have done little for the economy. We are pleased that the Chancellor comes to us and I can say that it successfully carried our country through all crises.
— What first of all should be to engage the new Federal government?
— Work must remain paid. And in order to have a future, we must invest in the digitalization. In the development of high-speed Internet access we are not sufficiently advanced. Funds, but the development should be faster. And education policy should also rely on digitalization. We need by 2022 digital school, but in education we need a suitable digital training program.
— What do You mean paid work?
— We cannot accept that entire industries go overseas because the labour costs in industry in Germany is the highest in Europe: 40 euros per hour. In Austria it is 36 euros, in Italy 28 euros, and inexpensive in the Czech Republic with nearly ten euros or in Bulgaria or Romania, where hour is worth three to four euros. We constantly align it with the help of innovation, research and development, with the best service and rationalization.
"From gross should have more net worth"
Workers should not expect salary increase?
— In the fall we will again be tariff negotiations with steelmakers and power companies, then we will see which views have with the Union. We rely on moderate wage growth. But should not be the case that the parties to the tariff negotiations haggle over every tenth coordinate and enhance in accordance with the economic situation, and work nothing gets. Therefore, taxes should finally go to the cold progression. From gross should have more net.
— Do you require a reform of the law on working time. How do You see it?
— We don't want to increase the amount of work. But here we need to have more flexibility for workers and employers. The current working time should be distributed differently throughout the week in accordance with operational need. We can't develop the industry 4.0 on the basis of the law on hours of work 1.0.
— That is, it will be necessary to check email also during the weekend? Workers complain that they want continuous availability. You consider this?
— I think that the workers would like to have a more flexible work schedule. Then they could better organize their work and private life circumstances.
— During the election campaign one of the topics will be the growing limitation of working conditions. It also refers to the flexibility that You expect?
— In General it is necessary to make clear that we live long-term dividends of the reform programme 2010 and the associated creation greater flexibility. To abandon it would be a big mistake. This reform agenda has made us leaders in Europe, with broad prosperity and a reliable guarantee jobs. People live as good as never before in the history of this country. However, this does not mean that you cannot make industrial relations more flexible.
Uncertainty cause trump and Brakcet
Bavarian economy depends on foreign trade. What can You say about the new President and declared them to protectionism?
— With President trump life easier. We cannot properly evaluate our chances for future exports. Because of this uncertainty appears restraint and investment — even if the existing links with the US economy — more open and continuous than in politics.
But there are still Brakcet.
— Here is the uncertainty after the elections in the UK has become even greater. But we need a UK as a strong state in Europe and as a trading partner. The volume of the Bavarian export is just because of our automotive and machine — building industry- 14.9 milliardo euros, imports — 5.6 billion. However, to stay at this level is unlikely.
Can you soft or hard Brakcet?
— I have a reasonable — so that the UK continue to feel in Europe, so that Brakcet served as a model for future outputs from the EU.
— There you have Economics now new guidelines?
Elections in Europe have been very positive. In the Netherlands and in France, won the party-minded friendly toward Europe. This a chance to open trade in the EU we have better yet use. We must always remember about the benefits of the EU and to develop national self-interest. In addition, the economy is very flexible. We do our business where it is better. Of course, we would like to have in China a strong base, because the relationship is just gorgeous. Our Association has opened its branch also in Iran. And we will not allow the US to dictate with whom we do business with and who not.
— Do You need to do business with Russia?
We must return to reasonable relations with Russia. These sanctions did not resolve the conflict between Russia and Ukraine, but has exacerbated political relations. Six and a half German and Bavarian 1800 firms in Russia suffered greatly from these sanctions, but they stayed there. It is time to cancel these sanctions.
— The EU — a different view.
— Because Eastern European countries are still in favour of sanctions. However, I firmly believe that in the long term, we need Russia as a political and economic partner. Do not forget that while we are talking about energy imports. However, in this sector and so we have no definitive overall concept, which would rule out erroneous investment and would make it possible to ensure the security of the investment.
— You mean the energy turnaround?
— What happens here will in the long run, have dramatic consequences. The energy turnaround will cost us by the year 2025 almost 500 billion euros. Our prices in the energy sector is twice higher than in the US, 50% higher than in France, 80% higher than in Poland. We don't know where in the long term will receive power when shut off nuclear power plants, and transmission lines North-South are not ready, electric is much in demand, and energy rehabilitation of buildings will not move forward. All this is unconvincing. Here the new Federal government should finally be clear. The energy turnaround is the most vulnerable place in the competitiveness of the economy.
Comments
comments