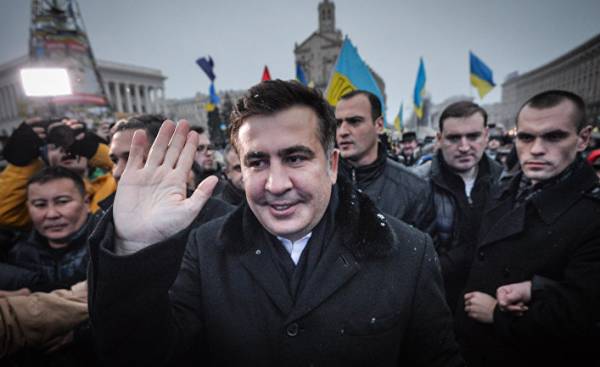 Recently the ex-President of Georgia in Ukraine and who went into opposition to everything that moves, again attracted public attention several loud statements. It happened after a display of calm around his person, although it is likely that in Kiev, he is still hyperactive, but in Tbilisi about him lately, almost unheard of.
The truth is, for Saakashvili it is possible to write an anthology about what happens with politicians who have lost sense and stayed on the stage longer than is needed. Misha is increasingly moving to a marginal niche: the fact that three years ago worked, today it makes Ukrainians slight smile.
Policy — it is similar in psychology to crime. Here and there great importance is the principle of "don't bother, got the Bay". The concept of "a thousand and one warning" — it's for losers, and serious policy warning a couple of times, then you do it.
I remember well the enthusiasm with which met in the Ukrainian social networks are full of incriminating pathos speech, Saakashvili two or three years ago. He was the highlight of the program, his bold speech was inspiring and has steadily increased his rating. But everything has a beginning and has an end…
Impossible three years to make accusations, denunciations, to throw thunders and lightning in the spirit of "a tiger in a cage does not give the meat, save the predator" and to stay afloat. Everything comes to an end. In the first months of the rhetoric of truth inspires, six months later, she's just encouraging, and three years later — is an ironic grin.
I can say from myself: I policy of Mikhail Saakashvili are quite decent. Knowing all of the dark side during his reign, never going to deny that he managed to budge the deaf Georgian stone that stood without movement of the century, with his smelling of mothballs traditions, grandfathers-grandmothers, great history and Orthodoxy.
However, it was in the past and today Saakashvili — was not one in 2004. Said not once, not twice and not be lazy to repeat many times: any reform, including the most successful — this piece goods. It is in any case not a conveyor, and to transfer the experience of one country on the soil of another is problematic.
Can drag to Ukraine all authors of the Georgian administrative reform, but it won't mean anything. It is possible that the borrowing will be successful, but it is possible that the initiators of reforms in one country will turn into clowns in the other.
Another year, even six years ago it was clear that Misha is not the same. He is still energetic, and I love it still, but in Ukraine it is already on the verge of becoming ridiculous, and it's the worst thing that can happen to a politician. It is better to let hate than laugh.
A year or two ago said the same thing they say now: he should leave Ukrainian politics. All the arguments like "he is an effective reformer, he can save Ukraine" sound very serious. First, he was an effective reformer, but today it is not similar to itself, and secondly, it is obvious that in Ukraine the authorities do not let. It does not want to see political and business elite, and he has no popular support because of disappointment in the camp of supporters of reforms.
Even the right of speech tend to annoy, if they are abused to see where this thin, invisible line — that distinguishes the policy from a locksmith, not the level of education.
Similarly, I think that needs to return to Georgia and other members of Saakashvili's team, who were behind the Ukrainian government. Don't need them there to run through towns and villages with accusatory texts. It should finally understand that Ukraine is a very friendly, all of us very dear, but still a foreign country.
A foreigner who shakes his rights in a foreign country, always does not look too appealing. While the Ukrainians believed that the Georgian reformers will be able to work a miracle while they were treated kindly and officialdom, and the public opinion is still okay, wherever you went.
But if they already do not count, they have disappointed — all, take his coat, went home. Unfortunately, the same goes for our military, which Ukrainian government is subtly hints that an uninvited guest is worse than Tartar, and it would be an honor to know them.
Every Georgian soldier, who was standing on the front line next to the Ukrainians, is the subject of our pride. This is just such an incomprehensible, muddy and extremely ungrateful country, like Georgia, may not know their characters by name. But here, as in the case of Saakashvili, everything comes to an end.
Thank you all, all love, all respect, all are free…
Can you imagine the accusations from the fan club of Saakashvili, and it is one of the problems. Anyone who has ever read my blog knows I'm not a very big fan of Georgia and the Georgian mentality, but to be honest, even I would be uncomfortable if tomorrow a hypothetical Ukrainians EN masse to write in social networks: "Yes, who are you Georgians, you shovels, chose a bandit Ivanishvili, you have no other choice, you have to call to himself our businessmen and engineers to develop the economy. Do nothing you can do."
Fans of Saakashvili trying to be more Ukrainians the Ukrainians themselves, and allow themselves, in General, quite boorish statements like "Saakashvili is the only one who can save Ukraine, and so, without him, they won't, because scoops"…
Excuse me, please, and anything that you say about a country that has highly qualified engineers more than you entire population? Anything that you accuse the incapacity of the country, which produces rocket engines and nuclear reactors?
You are here, we on behalf of say Germany, England or Georgia, which in many ways to Ukraine is still to grow and grow? Not on behalf of whether the the Georgia which, even if reformed, is still living in generally poorer than unreformed and corrupt Ukraine?
It is time for all of my compatriots here and there to understand that we have not yet reached that grade of development when I can with proud bearing to teach everyone life, and successful administrative reform is still not a good enough reason to include didactic tone to address anyone.
Go home. You are already there useless. Leave Ukraine to the Ukrainians.
Comments
comments