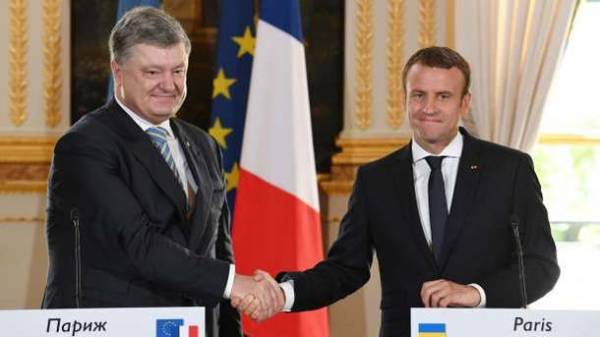 "Norman talks" can bring Ukraine a new plan for de-occupation of the Donbass, which was proposed by French leader Emmanuel Macron. This was stated by President of Ukraine Petro Poroshenko at the briefing following the meeting with the President of France, reports "Interfax-Ukraine".
According to him, a new plan for Donbas may be called the "formula Rules".
"Our agreement that we will put on paper the projects of possible solutions to the "Normandy format", perhaps they will be called "formula Rules", but we will be able to show the public a plan for peace and de-occupation of the East of Ukraine", – said Poroshenko.
In turn the President of France noted that the first paper should be presented and meets the prerequisites.
"We expect a result. The solution I proposed to the President Poroshenko, to all parties of the "Norman format" and, in fact, I already did that to President Putin. I wish the first was on the paper set out the preliminary conditions that need to be done, efforts that should be triggered by the parties," said macron.
According to the President of France, talking about the withdrawal of military forces and weapons, the admission of international observers to all locations and the release of the hostages.
As already stated Emmanuel macron, France is ready to support the Minsk process and are ready for a new meeting in Normandy format.
Comments
comments