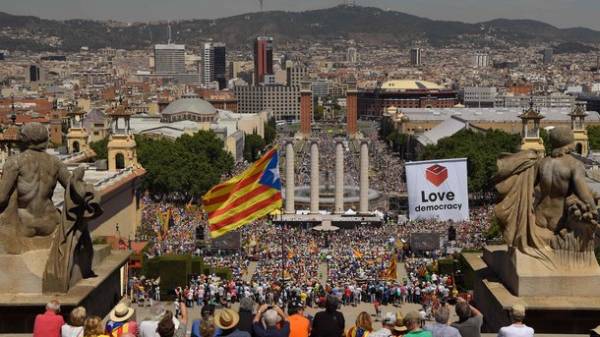 In the capital of Catalonia, Barcelona tens of thousands of people staged a demonstration, demanding a referendum on independence for the region. It is reported by the newspaper El Periodico, the TV channel "112 Ukraine".
According to the publication, per share were 24.5 thousand participants. According to unofficial data, participation in the rally was attended by over 40 thousand people.
Before the protesters were made by the former coach of Bayern Munich PEP Guardiola. "We will vote for independence, despite the fact that the Spanish government does not want it," he said.
In his speech in Catalan, Spanish and English languages, the famous soccer player said that "there is no other way". He also appealed for support from the international community.
On Friday, June 9, the chief Executive of the Spanish Autonomous community of Catalonia Carles Potsdamand appointed a referendum on independence on 1 October.
In November 2014, Catalonia held a referendum on independence for the region. According to its results, more than 80% of voters were in favor of creating a separate Republic.
9 November 2015, the Parliament of Catalonia adopted a resolution on independence from Spain. November 11, the Spanish government appealed against this document in the constitutional court of the country. This claim has been satisfied.
In March 2017 the High court of justice of Catalonia has recognized the former President of Catalonia Artur Mas guilty of holding an illegal referendum on the secession of the region from Spain and banned him from holding public office for two years.
Comments
comments