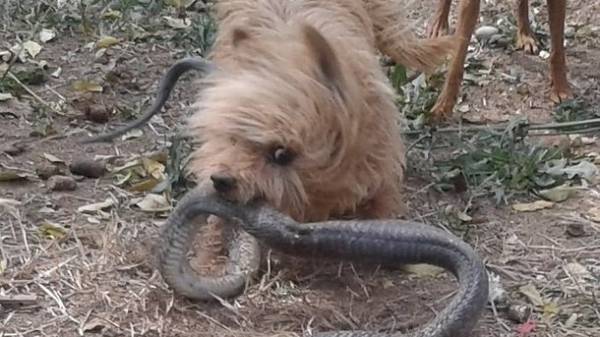 In the South African city of Pretoria dog breed Yorkshire Terrier died saving the owner from Cobra, reports the Daily Mirror.
According to the newspaper, a dog named spike noticed crawling to the mistress of a snake and attacked her. The brave dog managed to kill the Cobra, but she managed to sting him in the mouth.
In addition, she was bitten in the paw of another pet, female, mongrel dog named Prince. It is noted that within the hour, both dogs were killed.
The dog's owner claims not to have seen the Cobra, while the Terrier has not brought her in the mouth.
My dog Spike killed a snouted cobra yesterday. But the cobra bit my dog aswell…he died yesterday..he was a real hero. pic.twitter.com/yH142nwnPw
— louise grobler (@louise_66318) may 13, 2017
"I was so close to the snake. I think if spike jumped on her and grabbed her neck, she could sting you and me," said the woman.
pic.twitter.com/wm1Sir2CKM
— louise grobler (@louise_66318) may 14, 2017
According to her, they didn't expect to meet a Cobra, because at this time of the year they hibernate. She suspects that the reptile disturb the neighbors, move the stones in the yard.
Comments
comments