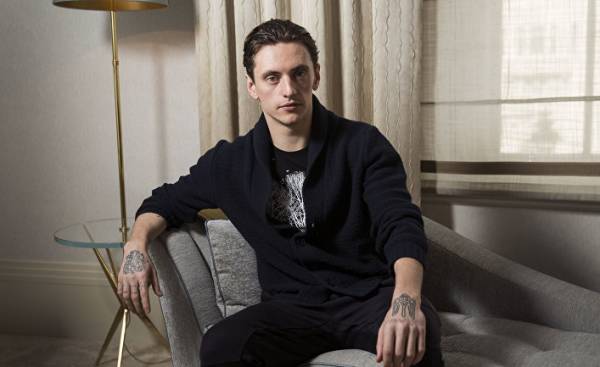 Sergei Polunin (27 years old) — today global superstar. At the age of 19 he became Prime Minister of the Royal ballet in London, but he left that famous scene in less than three years. Despite the fact that Polunin to at least limit their speech to the audience, he still soars above the stage with such ease that the audience numb with delight. He has earned a lot of nicknames: Bad boy, James Dean of ballet, the Embodiment of a jump beyond. Lately, he begins to realize another of his dreams — to become an actor. Recently finished shooting the film "murder on the Orient Express," directed by Kenneth Branagh, where Polunin played together with johnny Depp, Michelle Pfeiffer and Penelope Cruz.
The General public noticed Polunin at the end of 2014 in the video for the song the Irish singer Hozier Take Me To Church, filmed by photographer David LaChapelle. Amazing jumps and pirouettes then 24-year-old dancer, covered in tattoos and scars, has now been viewed on YouTube 20 million views. Paradoxically, in Polunin drew the attention of the BBC, which was co-produced biographical documentary "the Dancer". In late may, the film will be shown in Czech cinemas.
Polunin was born in 1989 in the Ukrainian city of Kherson on the Black sea in a Russian-speaking family. At the age of 13 he was accepted into the ballet school at the Royal Academy in London, and almost immediately it was talked about as a future star. At the age of 19 he became Prime Minister of the Royal ballet — the youngest in its history. But less than three years, he left the scene and the media began to write about his frantic life, full of parties, alcohol and cocaine. He himself admits that often before performances reinforces the power of different substances: "Then I don't feel pain, fall into a daze and often don't even remember, how was the show," the unsophisticated Polunin says in the documentary, filmed in 2012-2016. Two months ago in the British capital hosted the premiere of a large-scale performance Project Polunin, on which Sergei Polunin worked together with his girlfriend Natalia Osipova. The dancer appeared before a Prague audience first of may at the National theatre in the program of the Dancer Live.
Reflex: are You originally from Ukraine, long lived and worked in London and then performed in Russia. You spend a lot of time in Los Angeles and just returned from a tour in Japan. Where do you feel home?
Sergei Polunin: I often return to London and, despite the fact that this city I love and every time amazes me, I don't consider it their home. So, if you're asking, the closest thing to me, perhaps, Ukraine.
— After 2012, you resigned from the Royal ballet in London half the year, you danced in Moscow and Novosibirsk. Finally, shortly before the annexation of Crimea by Russian troops, you left. On the hand one hand you have a tattoo of a coat of arms of Russia, the Ukraine…
Russian emblem I ripped off shortly before that happened, as if had a premonition of what will happen. Ukrainian coat of arms I have already dealt at a later date. Anyway, I think it's time these two countries back together.
Probably it will take some time…
— You are right. I would like to help to make connections. In Russia, I know influential people. In Novosibirsk, where I lived for some time, people in the arts, especially ballet, are privileged: they meet people, which usually with each other do not intersect. You speak with the chief of police, the head of the mafia, the head of the largest enterprises in General, with all who have the power… In Ukraine, I have not really Dating yet… So I'm going to go back there.
— About Russian expansion we, the Czechs, too, were quite fresh memories. It hasn't been a hundred years since then, as we are under the Soviet leadership was occupied by armies of the Warsaw Pact. Not horrified you, when in the East of Ukraine started the war?
— I'm from Russian-speaking part of the country and they are absolutely the same people as those who live in Russia. In addition, I think that, for example, even between Russia and America has no special differences. I firmly believe that we must abolish borders. Tires me everywhere to show the visa, and when I come somewhere, I don't care what it's called: Europe, Czech Republic, Russia, Ukraine or the USA…
You say that London doesn't feel like home, but live there with your girl — soloist of the Royal ballet Natalia Osipova. What do you think about Breccia?
— Again there was not what I wanted. Actually, everything in my environment is displeased.
— Could you compare the conditions created for the art of ballet in different parts of the world? In the documentary BBC "Dancer" you say that dancers in London can't afford to rent an apartment, and they live four or five of them in one apartment…
— When I danced in London, none of us could afford to even have a normal dinner. I worked like a horse. I was a soloist, but could not buy a car, not to mention extravagant things. The same starts in Russia. Earlier it was decided to give the apartment to those who are in the troupe. However, to refuse indefinite contracts, and contracts are renewed only for a year, including at the Bolshoi theatre and the Stanislavsky Theatre. Artists living in Russia is not easy. Just as the dancer of the Royal ballet. In my time there the dancers received a thousand pounds a month, and my first year as a paid soloist for two and a half thousand.
— This was the main reason for leaving the Royal ballet?
— Yes and no. Money to me is not so interested, I was young and not particularly needed. But I thought it strange that dancers rarely seen on TV. I asked myself why they don't appear, for example, in advertising? I think this is due to ballet policy. We are constantly told that agents are bad people, they will only suck money out of us. Today in the world of ballet decides everything more of the Directors of the ballet scenes. Who else needs to protect our interests, if not our agents? If you can not see in the media, you don't earn enough money, so you can easily manipulate. I think that the dancers (not only considering the time spent on preparation) deserve the same recognition that, for example, actors, not to mention athletes. So I think for a long time, but the idea that I must change came to me only after talking with David LaChapelle. He asked me: "How is it possible that you don't have your Manager? For example, Opera singers have their own agents in different countries, then why they should not be in the stars dance?" So recently I created my own project…
— You mean Project Polunin?
Yes. I even came into conflict with its own employees. They told me: "What are you doing? Why do you want to pay the dancers more, though usually they are paid £ 300 a week?" Yeah, that's the standard, but that's why none of the star dancers even at the end of a career can not afford to buy their own apartment.
Premiere Project Polunin was held in London two months ago. You're back on the London ballet scene after five years. When you left, you said that you carry that you can't be trusted. How were you received by now?
— I personally really helped the video Take Me To Church. Before me went a rather strange rumors.
— Known that artists can behave wildly and promoters and the audience it attracts.
— It's not about the ballet world. If you behave, then go against the system. People who organize ballet events, that is, the Directors of the theaters, do what is beneficial to them, not what's good for the speakers. Two hours after I spoke with the Director of the Royal ballet, he made a statement that I'm an unreliable dancer, but at the moment I haven't even really realize I'm leaving… Besides, after many years spent in the UK, cancelled my visa that I, a foreigner from the European Union, created great problems. Suddenly I found myself in the country without permission to stay, although I lived there for almost ten years. I thought I was going to new York, but they were afraid of fairy tales about me, so in the end I was very happy when I received an invitation from Russia. Recently in Japan, I was again asked, saying, "You are a true professional". It's strange, "twilight".
— In the final part of the play Project Polunin you dance with Natalia Osipova in song under the name of Narcissus and Echo. It's about you?
— So thought the London critic. Honestly, it wasn't even my idea. The play is based on the idea that different artists perform their own desires. As for the Greek myth of Narcissus and Echo, such a desire fulfilled Ilan, Eshkeri (London composer, collaborated with, for example, David Gilmour, Annie Lennox and Amon Tobin is the author of music for documentaries David Attenborough, and is now preparing a large-scale ballet project with Polunin and LaChapelle — approx. ed.). Eshkeri've been wanting to compose on this topic. My project was born quite difficult, because you had to work together several "ego". Yes, don't laugh, to unite so many personalities that together they have been working together is probably the hardest thing that I had to organize.
— David LaChapelle big "ego"?
— You may not believe me, but he didn't seem to me "egomaniac", even though everyone around him was terrified. Our collaboration was born thanks to the Manager Gabrielle Tana and assistant David LaChapelle Milos Garage, which in 2014 at the opening of David in London had the idea to shoot together a video for the song Take Me To Church.
— When in a London hotel Claridge's LaChapelle has offered you cooperation, you described this: "I was absolutely at the bottom and lost. Then there was a dark streak in my life. I hated ballet and knew it would be my last dance. No doubt about it this remained." And suddenly a world-famous photographer invited you to appear on the Hawaiian island of Maui…
— He is a wonderful person and working with him was incredibly easy. He was good to listen to the needs of the dancer. We still keep in touch. And value the opinions of each other.
— Whether there was LaChapelle the man who opened doors for you in Los Angeles for Hollywood film producers?
— Rather, to them I brought up the fact that he shot a video for Take Me To Church with me. This video I really helped. At parties in Hollywood it happened that I was approached by some famous Director or actor and said: "I am delighted to see You, the wife told me about Your video". It was exactly the same in London, where I suddenly have again started to make. The air force wanted to participate in already established film "Dancer". In fact, it's incredible: one such little thing as a clip with a length of four minutes, and suddenly so many things going…
— Recently you starred in the movie with johnny Depp. What's it like to change ballet stage in the world of cameras?
Cinema is a wonderful medium. When I left the Royal ballet, I asked the natural question: what next? I didn't want to remain just a dancer. Five years ago Gabrielle, film producer Dancer, invited me to learn in acting school, but then I have not wanted to completely abandon the dance career. And now, about six months ago, there was a chance, out of nowhere… I even acted in two American films at the same time. It's hard to say which one is better. In the first, "Red Sparrow," with Jennifer Lawrence in the lead role, I played a dancer. At the same time I was approached by Kenneth Branagh with an offer to star in the film "murder on the Orient Express" (new version many times filmed Agatha Christie; the premiere is scheduled for autumn this year — approx. ed.) with johnny Depp. Bran offered it to me — the person who really wanted to be an actor, but had no training. The first day I came to the site, and already in the first scene, which was shot on the train, sat across from me Willem Dafoe and Derek Jacobi, removed — Michelle Pfeiffer, but for me — Penelope Cruz. They did not know that this is my first real scene in the movie! Such legends! Kenneth just said, "Go!" And I played without training. Like you threw like a four year old child into water and said "Swim!" Only then did I realize the huge difference between ballet and acting in a movie where every little movement so incredibly much.
Probably the only famous dancer, who achieved success on the silver screen, is Mikhail Baryshnikov.
But he was still a dancer. I want to ever think I was not a dancer, who plays and a real actor… I have received the following great offer. Acting makes me happy and helps to develop the ballet — I hope you don't get angry if I say this industry.
— You say that acting makes you happy. And what makes you unhappy?
— When nothing happens. It's awful. One day when I have nothing to do, I'm depressed. I need to be busy with something, for something to fight…
Comments
comments