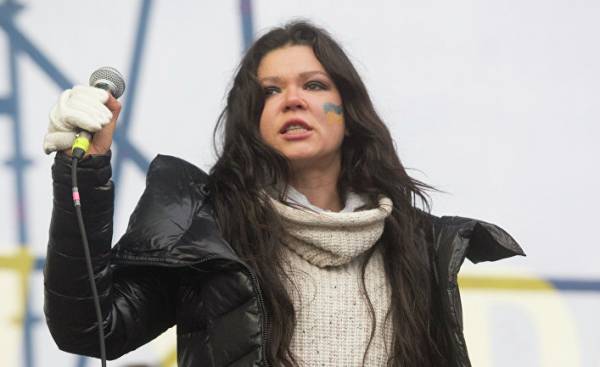 The winner of "Eurovision-2004" Ruslana (Ukrainian singer Ruslana Lyzhychko — approx. ed.) started the campaign "Buy Ukrainian Ukrainian tickets for "Eurovision". After a wave of indignation concerning the language on the tickets and comment from the official agent of musical superiority Concert.ua the actress appealed to the public note in the social network.
"The Ukrainian "Eurovision-2017 buy tickets in Ukrainian. Watch the first semifinal of "Eurovision-2017". The picture is beautiful and the festival "Eurovision" has come to Ukraine again. Yay! The joy that fills the heart and can't wait to finally perform in the final of "Eurovision-2017″, which we have waited and worried the whole year," — said the star. By the way, that Ruslana was the first to buy tickets for musical superiority, when they became available.
"We really are all looking for zradu (betrayal — approx. ed.) and write that you can buy tickets on the website Concert.ua only in Russian. My first flight on 14 February was in English. Now went and bought a ticket for the second semifinal of the 11th of may in the Ukrainian language. The second time I went, but was in the online queue. To have less zrad — let's share: In Ukrainian "Eurovision" buy tickets for Ukrainian! Hurry to buy Ukrainian ticket to the Eurovision — don't waste your time," urged the singer.
By the way, in the comments Concert.ua noted: buying a ticket for the show "Eurovision", you can choose the language, which will contain all the necessary information. Thus, during the process of printing the electronic ticket, the user is able to select the language, who wants to see it. Also the choice of language depends on the settings of the computer, mobile phone or other device, which carried out its purchase at the show of the song contest "Eurovision-2017".
Recall that the last batch of tickets for the final of "Eurovision" were sold out in 15 minutes even on the third of may. But the semi-finals and rehearsals are still available — tickets cost from 200 to several thousand hryvnia per seat.
Comments
comments