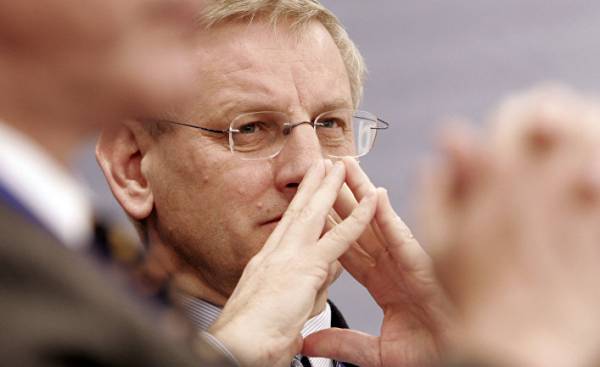 Ukraine — the main and difficult to solution the question, says former Prime Minister and foreign Minister of Sweden Carl Bildt (Carl Bildt).
Bildt arrived on a visit to Finland, in the newly opened Swedish-Finnish cultural centre Hanasaari. In an interview with Svenska Yle he talks about his views on topical issues of the modern world.
Svenska Yle: What is today Ukraine has?
Carl Bildt: It is essential to secure the European world order.
Russian aggression against Ukraine, the Crimea and the fact that now continues in Eastern Ukraine, a destabilized Europe, and the Minsk agreement are not met.
The centre of gravity of European policy towards Moscow and the European dialogue with Moscow is located in Berlin.
— The Minsk agreements, which were intended to establish peace in the East of Ukraine, is dead?
Well, maybe not dead. But in connection with them is, of course, a little.
My theory is that Putin is not ready to do something until you're done with the presidential election in March next year. He's not capable of some compromises.
In Berlin probably have the place more gloomy expectations. It shows how he inflates, then calms fighting. This can not happen without the participation of Russian officers in command.
— Is there any hope for rapprochement between Russia and Europe after the meeting, Merkel and Putin?
— It also depends on many other things. I think that the Minsk process is very important in the long run.
We can say that the Russian position is partly changed. Immediately after Ukraine and sanctions on Russia said: "We are all equal. We have China". Now in Moscow did not say that.
Appeared somewhat realistic understanding that relations with the West may not be avoided. Russia in its future economic development and modernization are dependent on the West. And this led to the fact that Moscow is now lowered tone.
— Do you think the sanctions have had some effect?
They very clearly represent a decisive confrontation between the West Russian politics. Sanctions are likely to be more prolonged.
I think that Russia is surprised that everything continues.
Sanctions were important in order to show unity and determination. Their economic value can be discussed.
— Do the sanctions have negative political consequences?
— No, it's unlikely. Russian retaliatory sanctions have had an economic effect in the first place, perhaps, for Lithuania and Poland. But the affected countries came from the fact that it is likely to be the case when at stake are important issues.
But the sanctions, of course, had a negative impact on the part of the Russian economy. This influence is not so big, but it was reflected in some strategic sectors.
— The whole world is watching Kiev and musical contest "Eurovision". Could there be some political value of what will happen after the contest?
— I hope not. And now it all came together so that Russia did not participate in the Eurovision song contest due to the fact that her actress acted in Crimea is unacceptable from the Ukrainian point of view. This is unfortunate.
— What do you think about the suspicion, that Russia would intervene in the election campaign?
— We in Europe might not be particularly surprised if Russia tries to intervene in the election campaign.
If we look at post-war history of Finland, we can find several examples of this.
But now other methods are used. Is social networking, and propaganda appeared other tools. Of course, as certain of them are effective or less effective, can be discussed.
Of course, we see a fairly substantial Russian propaganda and disinformation flows in order to influence the European elections. But we don't know how significant this is.
— Does it matter in France?
— It depends on the situation. If misinformation is very rude — that sometimes happens — and it exposes how, for example, was in Germany, it becomes rather counter-productive.
Investigation, which show that in France there is a very significant activity. But if it has some kind of effect, we do not know yet.
— What value it will have for Europe, if marine Le Pen wins the French presidential election?
— I suspect that you will be happy in the Kremlin and in the White house.
But Europe will be a significant trouble. From Les Pins is a retrospective policy. She says she wants France out of the Eurozone, but I don't think it will be, because 70% of French citizens want to leave the Euro.
Marine Le Pen is very negatively disposed towards the EU, and we don't know where it may lead. It leads an economic policy which can mean considerable economic hardship for France.
If she wins, it will mean difficulty for all of us in the first place, for Germany.
— Will collapse if the Euro or the EU?
— No, but a lot can change, depending on what will be French politician. But in France this will change significantly.
— As you look at the second electoral tour in France?
Underestimated marine Le Pen. She has a powerful message.
She took a very deliberate direction, but she is not trying to win votes. She can't win more votes, now we are talking about how to prevent to go to the polls other voters.
She wants to reduce the turnout at the elections and to prevent the mobilization of supporters of Emmanuel Macron.
It uses rhetoric, which is close to the far left.
— How do you feel about the French elections and the populism that, as it seems, is growing in Europe?
— I don't know how populism promoted its position in reality. Maybe in France, Yes, if measured over a long period. In Holland it is not so advanced, in many countries, it continues to stagnate, and in Germany even more receded.
Approximately 20-25% of the electorate in European countries belong to that group, whose members are very unhappy. They direct their discontent on their own so-called elite, the so-called elite in Brussels, against immigrants and against the EU.
— As trump did in his first hundred days?
Obviously stumbling.
He was forced to adjust its policies in one area after another.
It remains to be seen quite how far this correction will go.
The kind of rhetoric that he used during the election campaign and the rhetoric he partially used in his speech during the inauguration — in any case, a bit tweaked, and for this we can be grateful.
— What do you mean trump for the United States?
— We don't know. One hundred days is a relatively short period of time. If you take his words seriously, it must occur very large changes in the so-called liberal world order and the question of America's role in it.
There is also another line in his own administration. And we'll see how the balance between them will affect attitude towards different countries.
A few months ago there were expectations that trump will become a great friend of Russia and a great enemy to China. And now it's exactly the opposite.
What happens in three months — I don't know.
The US has become more unpredictable. And this factor of unreliability in unreliable and without that world.
— What do you think about Sweden and Finland?
— Erkki (Erkki Tuomioja — Erkki Tuomioja, former Finnish foreign Minister, member of Parliament) and I agree that the EU is crucial for Finland's security and for the security of Sweden and their development in the long term.
After all, Sweden and Finland for nearly a quarter of a century had every reason to go hand in hand in practically all major issues.
— Are you an optimist?
I am optimistic when I see the progress of science and technology, and such fantastic features like the computer revolution and the development of biomedical technologies.
At the same time, I have a concern the gap of geopolitics.
I worry when I see the buildup of tension in different parts of the world and see where it may lead.
— How bad is it in terms of terrorism?
— Bad, but we must not exaggerate. In the longer historical perspective we can see some periods when Europe was far more terrorism than it is now.
European security services, in the main, managed to prevent large terrorist attacks. Now we are talking about individuals, like the one we unfortunately saw recently in Stockholm.
Comments
comments