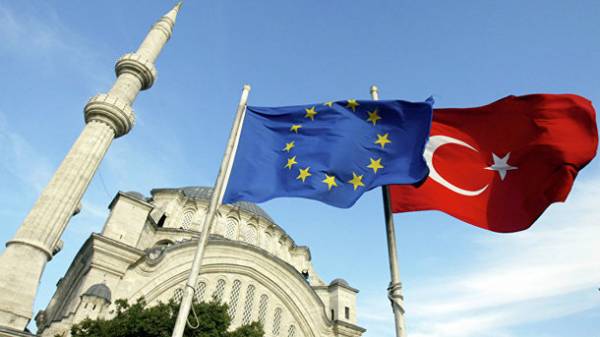 After the adoption of the referendum in Turkey, amendments to the Constitution, the heads of the leading German political parties have demanded the cancellation of negotiations on the accession of Ankara to the EU. About it reports "Ukrainian truth" with reference to DW.com.
Deputy Chairman of the Christian social Union Manfred Weber said that Turkey's full membership in the European Union "can no longer be objective" of the negotiations.
Weber described the prospects of Turkey's accession to the EU as "self-deception". In his opinion, the country's membership in the European Union should be withdrawn from the agenda. It is expected that the heads of the countries entering into EU at the next summit, which will take place in early may, will announce the revision of relations with Turkey.
The German government refrained from commenting the results of the last referendum. Foreign Minister of Germany, Sigmar Gabriel, urged caution. According to him, should "keep a cool head" and "behave sensibly".
Deputy Chairman of the Christian democratic Union Julia klöckner in an article published in the Huffington Post, said that the door to EU for Turkey "finally closed". In her opinion, financial support for Turkey to enter the EU, must be stopped. Earlier, in connection with the possible accession to the EU, Turkey has received from Brussels to 4.8 billion euros, and according to the plan until 2020 was supposed to still 4.45 billion, said the Agency dpa.
In addition, the leaders of the Left party and the green wagenknecht and CEM Ozdemir also required to review military cooperation with Turkey. According to politicians, all 260 German soldiers at a military base in Incirlik, should be withdrawn, and all deliveries of arms to Turkey is stopped.
Instead of a "Pact Merkel-Erdogan," says Wagenknecht, you need to create a Union between the FRG and the democratic forces of Turkey.
"From the German government needed to make clear whose side it is on the side of democracy or on the side of the dictatorship of Erdogan", – considers the head of the "left" in the Bundestag.
According to preliminary data, the changes to the Turkish Constitution, significantly expanding the powers of the President of the country, in a referendum on 16 April approved a little more than 51 percent of voters.
Turkish President Recep Tayyip Erdogan has said that he plans to restore the death penalty.
Comments
comments