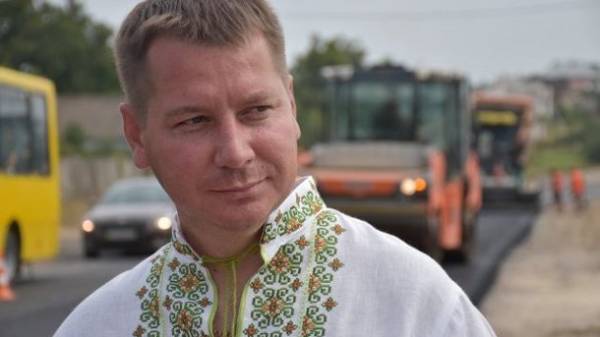 The head of the Kherson regional state administration Andrey Gordeev believes that Ukraine can return to the occupied Crimea "without firing a shot", by the Crimeans, in particular, the initiative of providing thousands of free places in the universities of the region to the Crimean people. About Andrei Gordeyev said in comments to UKRINFORM.
"I am confident that the path of de-occupation of Crimea is through people. Therefore, we are providing 1000 seats for free education in Kherson universities children from the Crimea. We need to help them, educate them, give them a Pro-European vector of development, the right to breathe the air of freedom and provide the opportunity to obtain truthful information about Ukraine. To returning home, they were able to form this atmosphere of freedom in the Crimea. I believe that through this a thousand young people, we can without firing a shot to return to the Crimea", – said Gordeev.
In addition, he said, the authorities need to create more comfortable living conditions in the regions. "We need to Kherson to change our infrastructure, build proper roads, to make available good education of youth, to provide quality medical services, that is to create comfortable living conditions in any point of the region. And then the Crimean people, seeing the difference in living conditions, think about the fallacy of his decision," – said the head of RSA.
As told to Gordeyev, in the area of 11 thousand displaced persons from the Crimea, many of whom have problems with housing and employment. "Despite the fact that the government to pay them social assistance, it does not solve their problems with housing and construction. In addition, they have problems with employment. The work they certainly find, but it's not what suits them. We are now considering, together with the government of Ukraine, particularly, with the Ministry for the occupied territories, the construction of through European grants inexpensive, mobile housing for the maximum number of displaced persons", – said Gordeev.
He said that for this purpose "inventoried all the unfinished" in the regions. "Kherson region, especially in district centers, in need of constant frame – we need teachers, doctors and other professionals of the social sphere, and we plan to fill our shortage of staffing in this way", – concluded the head of the regional state administration.
We will remind, Russia in March 2014 after the introduction of troops annexed Ukrainian Crimea and organized a "referendum" on his self-determination. March 18 in the Kremlin signed the so-called "agreement" on the adoption in the Russian Federation of the Crimea and Sevastopol. Western countries do not recognize the annexation of Crimea and imposed a series of economic sanctions against Russia.
Comments
comments