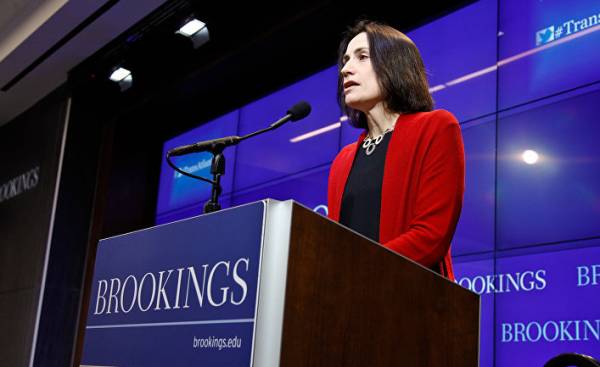 A biographer of Vladimir Putin and a recognized expert on Russia, Fillon hill (Fiona Hill) is one of the most cautious advisers in the White house. At a time when the heads of American and Russian diplomacy meet this Wednesday in Moscow, it could play a key role in bringing the two world powers. What kind of expert, often criticized the Russian President?
While U.S. Secretary of state and his Russian counterpart Sergei Lavrov is scheduled to meet on 12 April in Moscow, relations between Vladimir Putin and Donald trump more than tense in connection with events in Syria and Ukraine. In order to try to keep a more peaceful bilateral relations, the us President addressed to the Fillon hill (Fiona Hill), Director of the Russia and Europe at the national security Council. Relatively restrained, this woman came out of the shadows and got a position in the White house in March of this year. It can play a very important role in American diplomacy.

From Scotland to Harvard
Fillon hill was born in Bishop Auckland, in the North of England in 1965 in an ordinary family. Her father was a miner and her mother a midwife. At an early age, an Englishwoman discovers a great talent for foreign languages and to his manhood begins to show interest in Russia.
As evidenced by the biography, Fillon hill shows brilliant results in the University in the study of Europe and Russia. In 1989, she receives a master's degree in the field of modern Russian history at the University of St Andrews in Scotland and continued his studies at the Institute of foreign languages named after Maurice Thorez in Moscow. Finally, Fillon hill is getting another master's degree and doctorate in history from Harvard in 1998. This experience in higher education and its transition to Harvard will become a determining factor in her career. This is evidenced by the record at a prestigious American University. "Everything that I've accomplished my research, my learning, my book became possible thanks to Harvard, which opened doors for me and allowed to get connection with the right people."

An impressive experience
Prior to joining the national security Council last month, the new adviser to trump gained experience in strategic structures recognized in the circles of American power. In particular, she was Director for strategic planning of the Eurasia Foundation in Washington in 1999 and 2000. She has successfully applied his knowledge in the service of the National intelligence Council of the USA in 2006 and 2009, at a time when to replace George Bush in the White house came Barack Obama. This Central body coordinates the work of 17 intelligence agencies of the United States. And finally, before becoming Advisor to trump, Fillon hill was a senior researcher of the Department of Europe at the Brookings institution (Brookings Institution), one of the most important analytical centres specialised in social Sciences.
Skeptical biography of Putin
In 2013, co-authored with Clifford Gaddy (Clifford G. Gaddy), Fillon hill publishes a very interesting book about Vladimir Putin, "Mr. Putin: special agent in the Kremlin" (Mr. Putin, Operative in the Kremlin). In this book the authors paint a psychological portrait of the Russian President and identify six types of his personality. In a note to the publication, both authors note that "many of the statements of the USA about Russia are often based on potentially dangerous misconceptions in relation to Vladimir Putin." The assessment of another expert on Russia, scientist, Nosetti Julien (Julien Nocetti) of the French Institute of international relations: "This topic (portrait of Putin) was raised many times and it may seem hackneyed. However, in his book Fillon hill and Clifford Gaddy convince us that the Russian President is a kind of mixture of different personalities, each of which has inherited something from his past and plays a role in the management, vision of the world and reactions to events".
Visit hill has published numerous books and scientific articles about Russia and the Caucasus, and regularly gives interviews on these issues. Analyst Andrew Kuchins of Georgetown University noted that "she knows Russia and Putin better than others and that she is very balanced and accurate in their assessments."
Serious pressure
Due to diplomatic and economic problems that dominate Russia and the United States, this specialist in the field of psychology the Kremlin leader could be under serious pressure in the coming months. Indeed, the recent departure of the former security adviser Michael Flynn (Mickael Flynn) and the proximity of the current Minister of justice Jeff and Roman sessions (Jeff Sessions) and Russia inflame the controversy over the Kremlin's interference in the last presidential election.
Comments
comments