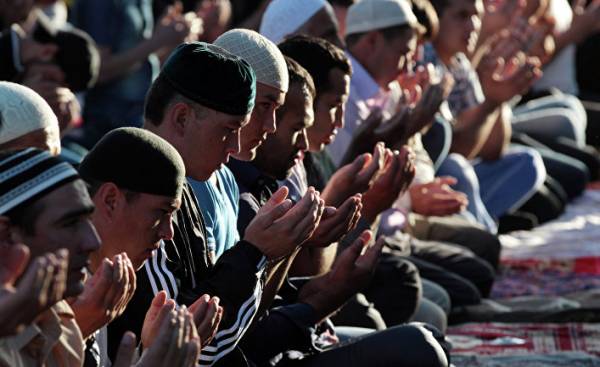 In St. Petersburg in front of one of Europe's largest mosques walks a frightened elderly woman, and gently begging.
"I'm scared, and my three children scared. We are very afraid," says a Crimean Tatar, a Muslim Luba.
She is one of the 20 million Muslims in Russia, constitute a powerfully growing share of the population.
"We've had a lot of problems. We just missed it".
Cook chain stores sushi became a suicide bomber
Monday in the afternoon, a citizen of Russia About Jalilov (22), according to Russian and Kyrgyz authorities, went down to the metro station "Sennaya square" of St. Petersburg with an explosive device disguised as a fire extinguisher.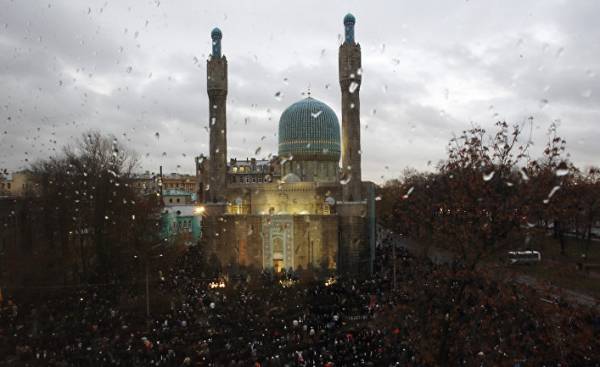 © RIA Novosti, Alexey Danichev | go to fotosensasi Eid al-Fitr at the most Northern mosques of Russia
At least 14 people were killed and about 50 wounded.
Jalilov, according to Gazeta.ru arrived in Petersburg from Kyrgyzstan in 2011 and went to work in auto repair.
Thanks to his father, who worked mostly in Russia, he received Russian citizenship.
Jalilov, according to the materials of the Russian media, retired from the car service workshop and went to work as a cook in a chain of shops selling sushi.
Part of the money he sent to parents in Kyrgyzstan.
In 2015, according to Mk.ru he almost lost in social networking, it was almost impossible to find there.
In February, he went to his hometown of Amir-Temur, Osh region of Kyrgyzstan.
On March 3, he returned to St. Petersburg.
A month later, it is suspected that he has gone underground with an improvised explosive device.
Russian skepticism towards migrants from Central Asia
According to surveys conducted by the independent Levada Center, 66% of Russians agree with the slogan "Russia for Russians".
Their share increased by 10% compared to 2013.
Three out of four Russians believe that immigrants should be sent home.
The economic crisis and a sharp drop in living standards due to low oil prices and sanctions have increased tensions.
The attack in St. Petersburg, carried out by the Russian citizen of Kyrgyzstan, will be an important argument of the Russian nationalists.
Russian ISIS militants coming home
From 5 to 7 thousand people, according to the Russian law enforcement authorities, left Russia and countries of Central Asia to Syria to fight on the side of ISIS (an organization banned in Russia — approx. ed.).
In recent months, after ISIL began to dislodge from Syria and Iraq, some tried to return to Russia.
Law enforcement agencies of Kyrgyzstan confirmed that St. Petersburg is a terrorist with a high probability arrived from Kyrgyzstan, but stressed that he had Russian citizenship.
In recent months, there were warnings that Moscow and St. Petersburg is preparing a terrorist attack.
We are talking about money
"This terrorist not true Muslim", says the Tunisian Fayed (Fayed) in a cafe "Damascus" on the North Bank of the Neva river, where many Muslims of St. Petersburg.
The main topic of conversation was the attack.
"It's all about the money. Just about the money. Someone is paying these guys to become assassins. Many Russians, unfortunately, are afraid of Islam. I tell them that true Islam means peace. The Quran clearly says that we must not kill," says Fayed.
Without immigrants from Central Asia, Russia will stop
Suspect in the crime is one of the approximately 1.5 million Kyrgyz working in Russia.
It is estimated that a fifth of the population of the countries of Central Asia work in Russia.
Most live and work in extremely hard conditions for a miserable salary.
Therefore, terrorist groups like ISIS were able to recruit many of the young migrant workers from Central Asia.
ISIS's important Tajiks.
Kyrgyz working in Russia, called the "immigrant elite".
The reason is that their conditions are better than the conditions of immigrants from other Central Asian countries.
Kyrgyzstan has received a number of rights when Kyrgyzstan joined the Eurasian economic Union Putin.
Putin and the Muslims of Russia
A year ago Putin opened in Moscow, the largest mosque in Europe to show that Russia respects Islam.
The Kremlin has spent billions of crowns to save the world with growing Muslim population of Russia.
Putin is viewed as much less xenophobic compared to his predecessor Boris Yeltsin, although he is playing to Russian nationalism.
Opposition leader Alexei Navalny sharply criticized Putin for the fact that he has a liberal immigration policy.

Now it is best to become invisible
None of the Kyrgyz, Tajiks and Uzbeks, with whom Aftenposten met in St. Petersburg after the attack, did not want their photos taken.
People from Central Asia are accustomed to the fact that they can stop when and where you want. Now, when is the tracing of terrorists, it is very important to stay as less visible. Especially those who have the documents are not in order.
"I wouldn't want to talk to you now," says one Tajik correspondent of Aftenposten in the Park near the mosque where he fed the birds.
He works 6-7 days a week, selling coffee for 200 CZK (about 1.3 thousand rubles) a day.
"Right now everything is very bad. I just want to work quietly. How to be invisible. Think it's the best."
Russian students with whom Aftenposten was found at the mosque, are well aware that Muslims in Russia are concerned.
"I think that all right thinking Russians understand that we should not direct anger at all Muslims," says student Alex. He hoped that the attack will lead to the improvement of cooperation of Russia with the West in fighting ISIS.
"Russia is a very multinational country. Muslims have always been part of Russia. I hope and believe that the attack will not change that."
Comments
comments