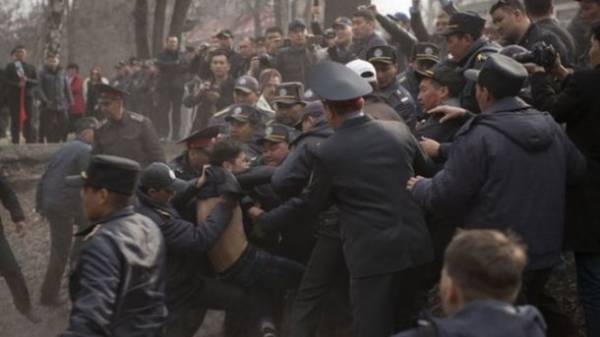 In Kyrgyzstan, at a mass rally against the detention of ex-MP Sadira Zhaparova, who returned to the country after three years of absence, the police used stun grenades. It is reported 112.ua with reference to Agency Reuters.
Outside the police station in Bishkek gathered about 500 people. They began to engage in clashes with the security forces, throwing them bottles, demanding the release policy. According to the Kyrgyz interior Ministry 68 protesters were arrested.
Kyrgyz press writes that Zhaparov returned to the country to participate in the presidential elections that will be held in November.
Detainee policy adviser who served until 2010 as President Kurmanbek Bakiyev. After his retirement he became a member of Parliament.
In 2013 Zhaparov was sentenced to 1.5 years on charges of violent seizure of power. He spent some time in prison, but in the same 2013 were released. At this time, we have seen the protests organized by his supporters, but the politician left the country and lived some time in Cyprus.
As you know, the current President of Kyrgyzstan Almazbek Atambayev, who has been in power since 2011 and follows a Pro-Russian course, will not run for a second term. It is noted that it is not clear who may the favorite in the presidential race and the leader of the 6-million country in Central Asia.
One of the probable candidates for the post of President, opposition leader Omurbek Tekebayev was arrested on February 26 on charges of corruption and fraud.
Comments
comments