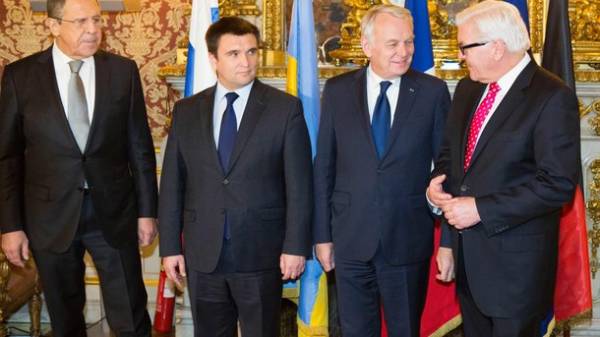 Representatives of diplomatic agencies of the three countries "channel four" during the meeting, which was held without the participation of Russia, discussed the preparations for the meeting at the level of foreign Ministers "Norman format", as well as the humanitarian, political and security issues on the situation in the Donbas.
"The Russians didn't come… but at his level we discussed everything we could. All questions and all parts are working a lot of time group (subgroup of the Trilateral contact group – Ed.) in Minsk", – said the first Deputy Minister of foreign Affairs of Ukraine Vadim pristayko.
Also at the meeting discussed the agenda of the meeting of foreign Ministers "channel four".
"We also tried to determine what will be able to speak to Ministers at the next meeting…we had hours of conversations on all the issues: the release of hostages and restoration of water and electricity, the work item in Gold, political progress, and continued with attacks and casualties," added Pristayko.
The diplomat also said that the meeting at the level of "senior officials" traditionally precedes the meeting at the level of foreign Ministers.
"We are working to ensure that the meeting took place. The only question that the Ministerial meeting should be agenda. Must be issues in which their intervention is necessary. But if Russia will not be at the negotiating table at my level, all we can do between them (OSCE, France, Germany, Ukraine – Ed.) is to discuss ways, but we can't know whether to stick with Russia what we all agree among themselves", – said Pristayko.
He also noted that this is not the first time that the Russian side refuses to take part in the negotiation process, trying to create a sense of involvement in the conflict in the Donbass.
"We knew that the Russians will not, and just as we wondered if we should go, if not them. To speak in the circle is good, but I would like to speak with those who, relatively speaking, can a cease-fire in the Donbass. Our French colleagues explained that the Russians refused, seeing no need, but it's a diplomatic answer that doesn't explain the true reasons" – said the diplomat.
The Deputy Minister also informed that the Ukrainian side constantly insists on the presence of Russian representatives at such meetings.
"The Ukrainian side welcomes the opportunity to communicate with the OSCE, the French and the Germans, but we insist every time that Russia should attend the talks", – said the Ukrainian diplomat.
Comments
comments