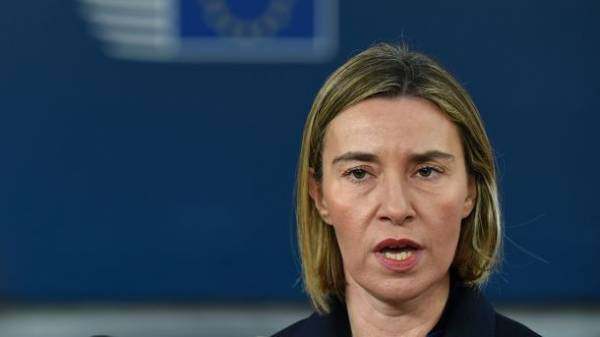 European Union does not recognize and will further condemn Russia's annexation of Crimea and demands the release of all political prisoners of Ukrainians on the Peninsula and in Russia. This is stated in the statement of the High representative on behalf of the European Union issued by the EU delegation in Ukraine.
Mogherini recalled that since the annexation of Crimea three years. According to her, this question remains a challenge to international security, with serious implications for international legal order.
She noted that the EU is not going to abandon sanctions against Russia and called on the UN to consider sanctions because of the elections to the state Duma of the Russian Federation on the territory of another state – in the Crimea.
In addition, the EU is concerned about the militarization of the Peninsula. The presence of Russian troops affect the situation in the field of security in the Black sea region.
Mogherini calls on Russia to release all detainees of the Crimean Tatars on the Peninsula, as well as held in Russia political prisoners are Ukrainians.
Crimea was illegally annexed by Russia in March 2014 after the "referendum" is not recognized neither Ukraine nor the world community. Including the "Crimean referendum" does not recognize and the United Nations.
The Verkhovna Rada of Ukraine officially declared on 20 February 2014, the beginning of the temporary occupation of Crimea and Sevastopol by Russia. October 7, 2015 President of Ukraine Petro Poroshenko signed the law. International organizations have recognized the occupation and annexation of Crimea as illegal and have condemned Russia's actions. Western countries have imposed a series of economic sanctions.
After establishing control over Crimea by the Russian occupation authorities on the Peninsula has worsened the situation with human rights, have concluded that not only the Ukrainian ombudsmen, but also international organizations, including PACE.
In turn the international criminal court (the Hague Tribunal) has ruled that Russia's actions during the occupation of Crimea is regarded as a military conflict against Ukraine. In the Hague say that the international conflict can be investigated according to the norms of the Rome Statute.
Comments
comments