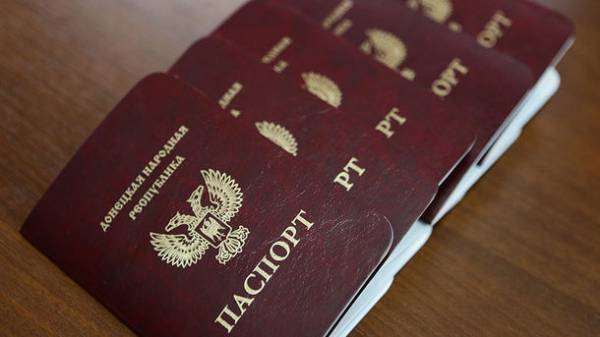 Several Russian banks have begun to serve individuals with the "passport" so-called "DNR" and "LNR", write "Ukrainian news".
"All right, you can go with the "passport" (so-called) "DNR" for maintenance", – said the employee of the Bank VTB (Russia).
The fact of service of physical persons with the "passport" "DNR/LNR" also confirmed a member of Russia's UniCredit Bank.
"Yes, in this case, you will be considered as a foreigner. If the document is in a foreign language, it will need its translation and a certificate of the right of residence in the Russian Federation", – said the employee of the contact center of the Bank.
While in the contact centers of the Russian alpha Bank and OTP Bank announced that in order to clarify the relevant information you need to apply directly to banks with a written statement, which will be considered within the established deadlines.
It is also worth noting that a number of banks in the Russian Federation refuses reception of "documents", "DNR" and "LNR". Such banks are subsidiaries of financial institution of the us and French banks (Citibank and "Cetelem"). In some Russian banks, the parent structure of which have offices in Ukraine, failed to get through.
As reported, on 18 February, Russian President Vladimir Putin has issued a decree which recognized in the Russian "passports" issued by the self-proclaimed "DNR" and "LNR". In fact, this document gave the banks the right to serve customers with such "passports".
The first among the Russian banks made the savings Bank of Russia. On March 7, the financial institution declared that are ready to serve the customers in these "passports" in all its branches. Against this background, in Kiev, activists have bricked up the office of Sberbank of Russia.
Today Sberbank of Russia in Ukraine has imposed restrictions on cash withdrawals limit is 30 thousand hryvnia per customer per day. Also the limit applies to the withdrawals of deposits. Sberbank is called temporary restrictions and explain the "violation of the schedules of collection of branches and ATMs branch network".
In addition, NSDC has instructed the National Bank of Ukraine and the SBU during the day to make proposals for sanctions against banking institutions in which the capital is the share of state banks in the Russian Federation. Earlier , the NBU has said that it is ready to impose sanctions "dochek" Russian banks in Ukraine after the corresponding decision of the NSDC.
Comments
comments