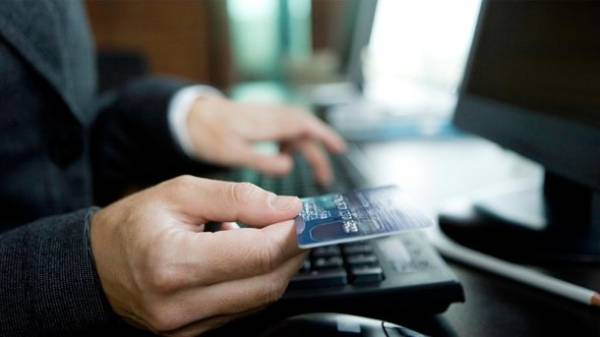 Ukrainian consumers are increasingly using Bank plastic, and there is a powerful promise for the further development of card payments. Despite the impact of the grandiose "bankopada", which we have seen in recent years, and a noticeable activation of various kinds of scams, more and more Ukrainians prefer cashless payments.
"The volume of cashless transactions in the market are important indicators of the transparency of any national economy. For banks card payments, unlike cash transactions, is less risky and costly. Accordingly, more active development of the market of cashless payments remains one of the important tasks for the Ukrainian financial sector, says Deputy Chairman of Board of Bank "Credit Dnepr" Andrey Moyseenko. Banks in the past year continued to develop various incentive programs and projects for cardholders, joined various payment systems. Similar trends will occur this year."
"Today," found out what is happening in the market for these banking services.
OPERATED CARD INCREASINGLY
A natural consequence of the turmoil in the banking system (in particular, the active decimation of banks) was expected to be a reduction in the number of ATMs number of payment cards in the hands of the population. And so it happened. Accurate data on the entire market yet, but is published by the Ukrainian processing center information relating to obsuzhivajushchie he banks. According to this, in 2016, the number of ATM decreased by 5%, and payment cards was less than 6%. But despite this, the total number of transactions on payment cards increased by 14%. That is what is left, we operated with significantly greater intensity.
BUY. The fact that the conservative minds of Ukrainians still rebuilt with the "money in your wallet is safer" to use the advantages of modern forms of payments, experts explain. Last autumn, the company GFK Ukraine conducted a study on Cashless Market Overview, aimed at clarifying our relationship to non-cash settlements. It turns out that card to pay for purchases for Ukrainians — it is already familiar. And 78,5% of respondents indicated that they pay for card goods and services not only in stores but also online. The year before these supporters of financial progress was a bit lower (77,3%). However, there is another 12.4% of cardholders who do not pay online. Almost two times fewer of those who use the card only to withdraw cash from 7% to 3.7%.
In total, according to the UOC, in 2016, the number of purchases paid by payment cards increased by 42%.
"Today, according to experts, more than a third of the payments in our country is cashless," says Andriy Moyseenko.
ENCOURAGE. Banks are trying to encourage us to use plastic is even harder.
"Almost everyone in the financial sector offer their customers — cardholders certain of the loyalty program, motivating to develop more non-cash operations, — says Andrey Moyseenko. — It could be cashback or bonuses. Quite common remain the banks of affiliate programs with retail chains, gas stations, airlines, chains of cafes and restaurants and other".
For example, one of the banks for payments with premium cards accrues reward points that can be redeemed to pay the bills in cafes and restaurants, purchase tickets for any carrier.
"Today the Bank card is not just a payment instrument, and multifunctional financial assistant that can help to save and increase the funds of the client. It is in this direction and developing trends of the market of Bank cards", — says Moyseenko.
SCAMMERS WORK ALL THE MORE SUCCESSFULLY
In the past year actively worked, so it is a Scam. As announced at a press conference, Deputy Director of the Ukrainian interbank Association of members of payment systems EMA Olesya Danilchenko, compared to 2015 year total income scams has increased four times — up to 339,13 million. Moreover, among all types of fraud leads to the so-called phishing. The purpose of the Scam is to get online credit card: name, card number, three-digit verification code CVV, pin, etc. To do this, scammers create websites that looks virtually indistinguishable from the original portals, payment services, banks, online stores, etc.
"To secure payment in the network restrict the use of the card or book in a different Bank specifically for these calculations — tells the chief specialist of the Department for combating cyber threats-Bank Alexander Savchenko. — Also set limits on transactions on the Internet, ATMs and points — they can later change, use Internet online banking. Connect, if possible, additional services: SMS-informing, and the security Protocol 3D Secure".
Do not transfer money to strangers, do not make a payment and the like.
Pay only on the familiar, proven, positive feedback online services. To this end, before payment, as recommended by Alexander Savchenko, check the site where you want to make payment on the website http://ema.com.ua.
There is good news — to withdraw money using an ATM safer. According to the EMA, the number of installations of the various devices on ATMs is declining year after year. In 2014 year, there were 215 such cases in 2015-m — 99, and in 2016 — 71 case.
Comments
comments