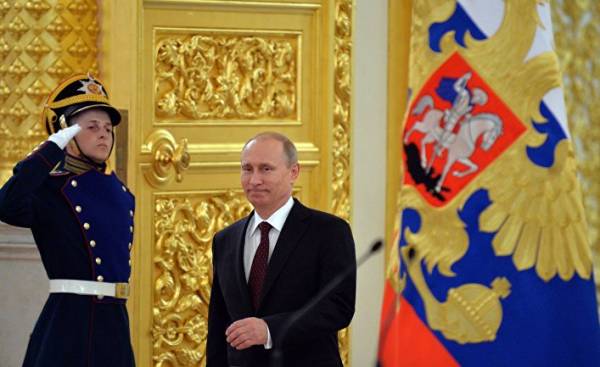 "With a guy like him easily both at home and away," says the singer from the group "Singing together" in a kitschy song about Putin. And if we have a weak idea of what it represents Putin as a "man" that many heads of state have been able to feel how he is a political leader. Intimidation, seduction, manipulation — the master of the Kremlin uses all the cards to earn points the international arena.
But let's talk about the techniques and not about the glasses. According to Mikhail elchaninova (Michel Eltchaninoff), author of the book "In the mind of Vladimir Putin," Putin is an experienced judoka, and that this sport is the basis of philosophy of the Russian President. "His strategy is to take advantage of the weak point of the enemy and in time to make the step," — said the Elchaninov.
It is no surprise
An experienced politician, leading the country for 17 years, Putin recently met with the American President, a novice in international relations. Knowing the reputation of Putin, trump's advisers would not let him alone to this meeting. Their anxiety was not in vain. According to Florent Parmentier (Florent Parmentier), doctor of political Sciences and expert on European geopolitics, the friendship between the Russian President and former Prime Minister Silvio Berlusconi could be a harbinger of good relations with Donald trump.
"Putin had not new: this is his fourth President of the United States. It is no surprise. It is quite possible that the trump Putin saw a figure equal to Berlusconi, with whom he formed a close relationship," emphasizes Florent Parmentier.
"These relationships are not encouraging", — says Mikhail Elchaninov, according to which, Putin manipulated the Italian leader. "Berlusconi is a playboy. Putin used it as an ally in Europe, playing on it. He indulged the instinct of Berlusconi".

"Either you're going to continue to say this and then I will crush you"
Putin could not only indulge, but also to Lynch. Without a doubt, Nicolas Sarkozy remembers it well. In 2007, the newly elected President, and really being in the Zenith of his fame, the former President of France decided to discuss with Putin "a number of sensitive issues". But that desire quickly passed. "Have you finished? Now you have two options: either you will continue to say this and then I will crush you, or you changed the tone and I will make you king in Europe." During his press conference, Sarkozy was so shocked that journalists even thought he was drunk.
"In Putin's behavior with his interlocutors there are elements of the observation and even empathy," — emphasizes Parmentier. Habit to pay special attention to the psychological portrait of the interlocutor remained with Putin since his work in the KGB. "In special schools classified Russian intelligence teach composure, the art of disguise, acting skills and the ability to use a hidden meaning," writes Vladimir Fedorovski in L'express. Future leader Rossi had learned those lessons. When one of my friends asked him to give a definition of the profession of spy, Putin replied: "I am a specialist in human relations".
"Everyone who has met Putin, they say that it can be very different. He's like a chameleon that can change from friendly to cold sharply. He mastered his role perfectly, and uses a different tone. This tactic is especially noticeable during public speaking. He can speak in diplomatic or bureaucratic language, and all of a sudden rude and obscene joke, as it was when he spoke about the Chechen terrorists: "We are in the toilet soak them"".
Phobia Merkel
"When we are talking about Putin — we are dealing with a carefully calculated unpredictability," continues the Elchaninov. He then praises, then blasphemes. During Putin's visit to the summer residence of George W. Bush in 2007 was dominated by warm-hearted atmosphere. Presidents fished together, Bush talks about his "friend Vladimir." Everything seems to be going well until at the end of his visit, Putin did not say: "In politics, as in sports, there is a competition"".
From the point of view of psychology, Putin is not always thin. In 2006, he takes Moscow Merkel. The German Chancellor has one weak spot. In childhood she was bitten by a dog and since then she kept away from them. As a gift, she gets a stuffed dog. It is a kind of aperitif, before a year later she found himself before beloved black Labrador Putin. Photo intense Merkel next to the dog spread around the world.
In addition, the Chancellor is a woman, that does not help Putin, who is a woman hater. According to Parmentier, "Putin behaves with Merkel as macho. Even the question is not whether it takes the machismo precedence over more mundane considerations."
"The strategy of tension"
"Putin has a whole Arsenal of tricks to win, one of which is "light humiliation" declares," Elchaninov. He is almost always late for meetings. The Russian President has forced himself to wait 15 minutes for Pope John Paul II and the Queen of great Britain. Angela Merkel was waiting 40 minutes and Pope Francis — the 50. "It's not very diplomatic behavior fits into the "strategy of tension — said Parmentier. — As a rule, he makes even longer to wait for the leaders of the countries of the former USSR". It can confirm the former President of Ukraine Viktor Yanukovych: in 2012, he waited for the President of Russia more than 4 hours.

But do not caught Putin in a private network during a meeting in Versailles with the new President of France?
"Makron behaved rather cleverly in relation to Putin. He took it to the Palace of Versailles, which is a symbol of power. Since Putin was apparently not in very good form, statements of the Makron that Sputnik and Russia Today are "organs of propaganda", a little knocked him out of balance. Macron did Putin. But I think that Putin will take revenge on the Makron during his visit to Russia", — believes the Elchaninov.
Comments
comments