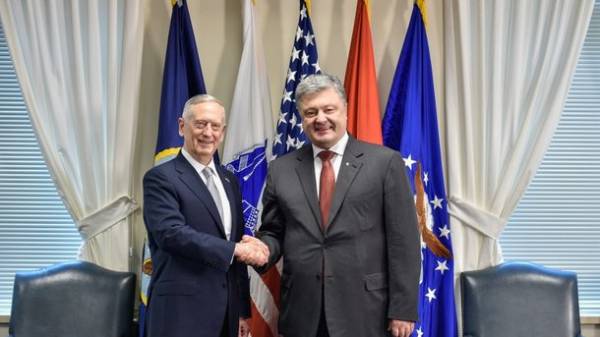 The President of Ukraine Petro Poroshenko has held a meeting with U.S. Secretary of defense James Mattis.
As the press service of the Ukrainian President, the sides discussed the situation in the Donbass as a result of Russian aggression. "It was a concern about the constant attempts of Russia and supported militants to undermine the process of peaceful settlement", – stated in the message.
Mattis expressed full support for Ukraine and supported the maintenance of sanctions against Russia as the aggressor country. He stressed the importance of compliance to maintain international order, sovereignty, territorial integrity and freedom.
"Even in the face of threats of aggression, cyber attacks, and other your country has demonstrated sustained commitment and makes a lot. USA are in positions of support to Ukraine", – he stressed.
The Minister noted the significant progress by Ukraine in the sphere of security and defence, as well as the role of chief of the General staff of Ukraine Viktor Muzhenko.
The sides discussed priority steps to strengthen the defense potential of Ukraine in the framework of development of strategic partnership with the United States and of deepening bilateral cooperation in the defence field.
P. Poroshenko noted that Ukraine and the United States over the past three years has done a great job: "We together with our American partners has created the new armed forces of Ukraine".
The President stressed the importance of expanding cooperation in the sphere of security and noted that Ukraine has managed to preserve its territorial integrity, independence and sovereignty due, including cooperation with the United States, which are a strategic partner of Ukraine.
Poroshenko expressed gratitude for a strong and firm support for the sovereignty and territorial integrity of Ukraine by the US and stressed the importance of strengthening transatlantic unity and solidarity.
He also called for preserving a United international front in the policy of sanctions against Russia until, until you restore the territorial integrity and sovereignty of Ukraine, including Crimea.
The head of state expressed his gratitude for the important assistance from the United States in strengthening the defense of Ukraine and stability of the Armed forces of Ukraine, as well as the rehabilitation of the Ukrainian soldiers.
The President invited the US defense Secretary to visit Ukraine for a visit.
Comments
comments