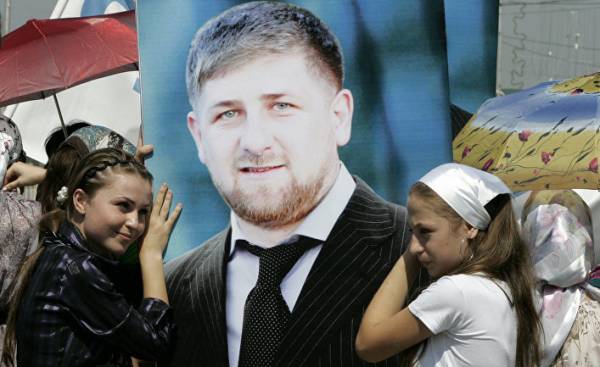 Ramzan Kadyrov and Vladimir Putin have much in common: a love of sports, pronounced male chauvinism and the tendency to arbitrariness. The head of Chechnya Kadyrov, the self-styled "foot soldier" Putin behaves loyally in relation to the owner, whose support brought him to power ten years ago. It guarantees the stability of the Kremlin in the breakaway the backyard, and Putin in turn has given him almost unconditional support.
For the sake of the peace of the grave in the North Caucasus, Putin sustains relationships with a very unattractive figure. Torture and murder of homosexuals in Chechnya — the fresh detail of a long blood trail that leads to Kadyrov. In the North Caucasus Republic constantly there are extrajudicial killings and collective punishment of opponents of the authorities, as well as alleged terrorists. In addition, there are numerous indications that Kadyrov is involved in the murder of journalist Anna Politkovskaya, opposition leader Boris Nemtsov and other critics of the regime.
The Russian investigation mostly come to nothing — this fact is not surprising, given the political significance of the figure of Kadyrov. The atmosphere of lawlessness prevents the formation of the world. But continue to fester old wounds remain trauma; victims of a brutal Chechen wars after the collapse of the Soviet Union and tens of thousands of civilians, and anger regarding the crimes of the Russian army sits deep. Kadyrov suppresses the moments of tension. They can return at any time to break out the weakening of repression.
Stability, for which he is responsible, is unstable, even if at first glance managed the restoration of the war-ravaged capital, Grozny. His regime is almost entirely dependent on subsidies from the Kremlin.
Just like the rest of the North Caucasus, Moscow lacks strategies to cope with economic hopelessness, corruption and problems in the field of security. However, Kadyrov is positioning himself as the bulwark against jihadism, but at the same time it creates for it the favorable conditions in his Empire. It combines Stalinist and Islamist elements in your management style. Critics say about the "arabization" of Chechnya, which, in particular, is reflected in the prohibition of alcohol and the old Testament understanding of the role of men and women. Regarding the latter, there seems to be found a superficial Parallels with the characteristic of the Kremlin's conservative values, but the medieval Chechen public order little in common with modern Russia. This is manifested in the fact that natives of Chechnya represent the second largest group of Russian jihadists in Syria — they are fighting there, including against Moscow, which they blamed for the hopeless situation of their homeland.
Thus, Kadyrov is becoming more and more a burden for Russia. Putin should, in particular, in their own interests — to understand that his Chechen Frankenstein creates more problems than it solves. However, while it demonstrates the loyalty and control of the situation, the Putin man for the dirty work, there is no alternative.
Comments
comments