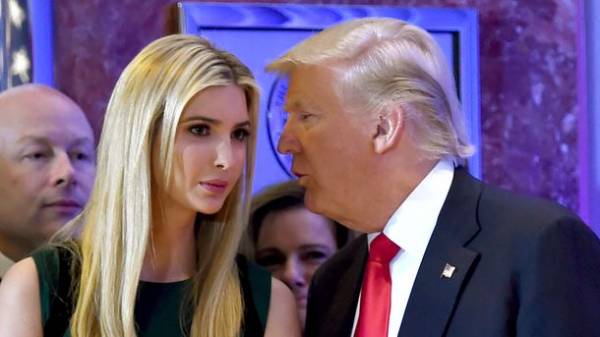 The daughter of Donald trump Ivanka influenced his decision to strike at the airbase of the Syrian government forces in response to a chemical attack, which killed more than 70 people. About it reports the British newspaper the Independent, citing sources familiar with the content of the diplomatic message of British Ambassador to the United States to the Prime Minister Theresa may, reports "Ukrainian truth".
In a diplomatic message to the British Ambassador to Washington, Kim Darroch to the Prime Minister of the country may and Minister for foreign Affairs Boris Johnson says that Ivanka trump has influenced the decision of the President of the United States Donald trump to strike in Syria.
Sources who have read this message, said that the position of the first daughter on the offense in Syria had "considerable influence in the oval office".
It is reported that the reaction of the administration was "stronger than expected".
According to The Sunday Times, trump was absolutely shocked by the images of more than 80 victims himataki, which was broadcast on television.
The White house also stated that after seeing images of victims himataki in Syria and intelligence regarding the attack, he decided to attack Syrian government air base.
Earlier it was reported that the President of the United States Donald trump decided to respond to the Syrian regime for chemical attack in Khan Shaykhun after seeing the next day pictures of dead civilians, including many children.
We will remind, us destroyers USS Porter and USS Ross in the night of Friday released 59 rockets at the airfield of the Syrian government forces shirt in response to the chemical attack of Assad's forces this week.
As reported, the national security adviser of US President Donald trump Herbert McMaster leaves open the possibility that a tramp is ready for further military action in Syria, but, according to him, trump is committed to a "political solution" to the Syrian crisis.
Comments
comments