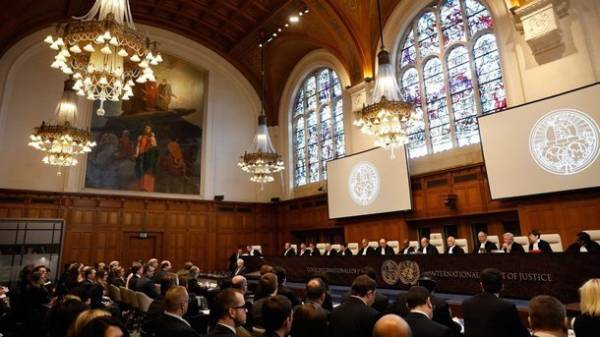 The international criminal court (Hague Tribunal) is likely to take a decision in favor of Ukraine, but at this stage it is unlikely to somehow affect the situation in the East of the country. This opinion was expressed in comments to NewsOne TV channel lawyer mark Feigin.
According to him, if the decision is not in Russia's favor and she would not fulfill it, it will serve in the future for other vessels that will be able to rely on him.
"Most likely the claim will satisfy, and introduce temporary measures. But we should not delude ourselves, probably, and the requirement about the termination of supplies of funds, weapons on the territory of Donbass, and ending discrimination against the Ukrainian citizens in the Crimea, the Crimean Tatars will not be respected. Russia denies the fact that it takes place. Everything remains at the level of declarations," – said Feigin.
According to the lawyer, the Ukrainian side in this process the arguments more compelling.
"No matter how compelling, was not side, but there is the obvious – annexed the Crimea. I think that the arguments in favor of Ukraine, not Russia", – concluded the lawyer.
Note that today at 16:00 Kyiv time in the International criminal court will announce a decision on the claim of Ukraine against Russia.
Recall, 16 January the Ministry of foreign Affairs of Ukraine filed a suit regarding the violation by Russia of the UN Convention on combating financing of terrorism and the Convention on the elimination of all forms of racial discrimination international court of justice in the Hague.
In the lawsuit Ukraine claims that the Russian Federation violate the Convention for the suppression of the financing of terrorism by providing arms and other assistance to illegal armed groups who had committed a series of acts of terrorism on the territory of Ukraine. The most tragic terrorist attacks of Russian puppets in Kiev will include the destruction of the aircraft "Malaysian airlines" flight MH17, the shelling of residential areas in Mariupol and Kramatorsk destruction of civilian passenger bus near Volnovakha and a deadly explosion during a peaceful Assembly in Kyiv.
In addition, Ukraine claims that the Russian Federation violates the Convention on the elimination of all forms of racial discrimination, taking part in the campaign of discrimination against non-Russian communities residing in the occupied territory of the Crimean Peninsula, in particular, communities of ethnic Ukrainians and Crimean Tatars. Kiev says that since the illegal "referendum", the Russian occupation authorities pursued a policy of cultural destruction of these communities. This discriminatory policy was condemned by the General Assembly of the United Nations and manifested in a ban the activities of Mejlis of Crimean Tatar people, the wave of disappearances, killings, unwarranted searches, detentions, attempts to stop broadcasting media, as well as to limit the teaching of the Ukrainian and Crimean Tatar language.
Comments
comments