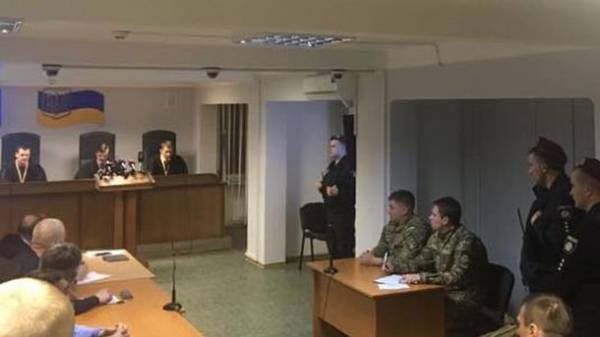 Obolonskiy district court of Kiev sentenced the former commander of the disbanded company of patrol service of militia of special purpose "Tornado" the Main Department of MIA of Ukraine in Luhansk region Ruslan Onishchenko, Deputy Nicholas Tsukuru and 6 members in the unit to long terms of imprisonment, four defendants were given suspended sentences, the TV channel "112 Ukraine".
"Got the company commander Ruslan Onishchenko, has 11 years of imprisonment. Next is his Deputy Nicholas Tsukuru, he received a 9. Other fighters are mostly 8-9 years old. Also there are four suspended sentences. Under house arrest has sent four former fighters – Yuri Shevchenko – he received three years probation and two years," reported the journalist.
Also the chief military Prosecutor Anatoly Matios on his page in Facebook said:
"Pronounced the sentence of ex-police company "tornado", which tortured civil people."
Onishchenko: 11 years imprisonment;
Tsukuru: 9 years imprisonment
Lyashuk (Mujahid): 10 years imprisonment;
Cold: 9.6 years imprisonment;
Bush: 9 years imprisonment;
Golcuk: 9 years imprisonment;
Glebov: 9 years imprisonment;
Plamadyala: 8 imprisonment;
Shevchenko: probation – 5 years of imprisonment with a delay of 3 years;
Ivash: conditional – 5/2
Demchuk: conditionally -5/2
Sviridovskiy: conditional-5/2.
As previously reported, the decision in the case of "Tornado" took place behind closed doors.
We will remind, ex-the company of men "Tornado" was accused of "forming a criminal organization and committing to its composition from December 2014 to June 2015 on the territory of Luhansk and Donetsk regions of satisfaction of sexual passion in the unnatural way with the threat of physical violence".
They were also charged with: abuse of power and office powers employee of law enforcement body, which was accompanied by violence, threat of violence, use of weapons and special means; illegal acquisition of a vehicle by threat of violence; false imprisonment and kidnapping; torture; incitement of a person to attempt suicide, which is a consequence of the brutal treatment; the unauthorized assignment of powers and titles of officials connected with the Commission of any crimes using the uniform of a law enforcement officer; unlawful entry into a dwelling and unlawful conduct in this examination, committed service person with threat of violence; extortion committed by an official using his official position and the threat of murder; extortion of official documents, committed out of mercenary motives, which led to the disruption of the companies; misappropriation of the passport of the citizen of Ukraine.
Comments
comments